New Gridgum design, what make us the best / 27 June 2017 - 17:36:03
GREADGUM.COM - TEMPLATES MARKETPLACE
Over the past 8 weeks, Gridgum has been dedicated its force towards renovating the website, so we become the easiest, faster and most convenient choice for all individuals looking for a website for their companies. Our designers have come up with a piece of art that will not only make your business successful, but it will make your browsing experience better and more advanced than ever before. Let's take a moment to explain the highlights of the new tools on Gridgum website.
Affiliate program:
In our new website design, we decided to create an affiliate program, so anyone who wants to join our team by multiple themes. All you have to do is to join as an affiliate and you will be directed to your profile where you can link any website to a Facebook page that you already have. We welcome everyone in Gridgum, and we permit clients to redirect on your website once they have chosen the template that you post on your Gridgum, so you can also promote for your website when you become an affiliate with Gridgum. Oppositely, you can also sell Gridgum theme on your website. If you are an affiliate and decide to sell our theme on your own website, you can do that with a commission of 20%-40%, please visit Gridgum term of services for a detailed terms agreement policy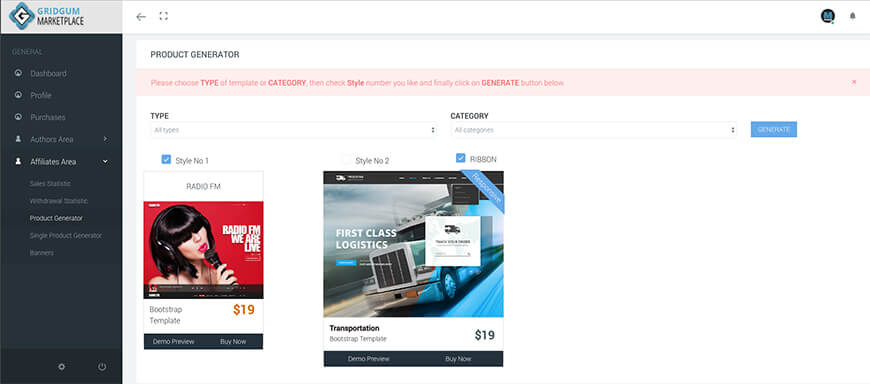 Author program

Our author program has always been one of the strongest part of Gridgum that we have always leaned on. Any website developer can simply create his template or sell his template and earn 60-70% commission on each sale. So if you have already a lot of templates that you have created and looking forwards to earn extra money, you have to consider uploading them into Gridgum website and in a matter of days you will earn up to 70% of each sale that you make, please visit Gridgum website and see the terms of services for a detailed terms agreement policy.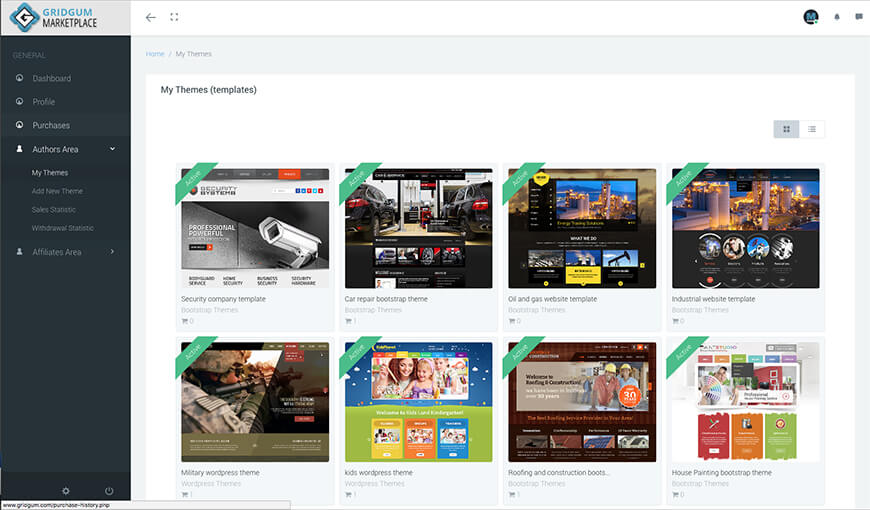 Sales statistics
In most website design templates, you are not provided an automatic database system in order to let you know your earnings, profits and more statistical data of your work. In our new website design, we provide with fully graphic results of all your earnings and withdrawals. It is going to be easy for you to visualize what was your profit, what profit did you withdraw, your commission, and your savings. All these values are presented in numerical numbers but also presented in graphs.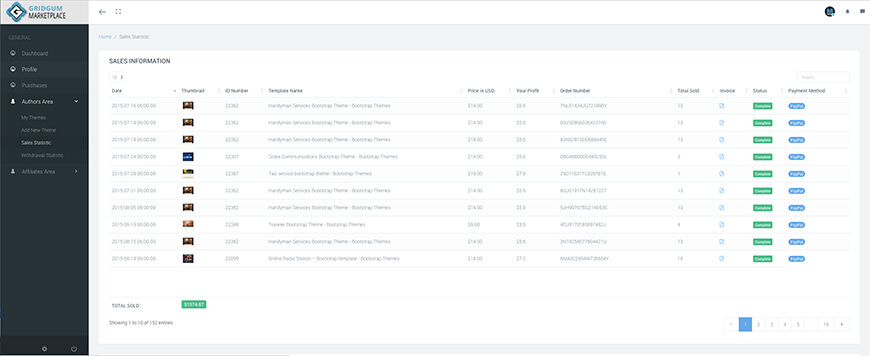 Types and categories
At Gridgum, we sell themes to many business ideas. They sometimes need a certain theme in a specified programming language. As a result, we did categories and types about every single programming language. So you will find types to be: Bootstrap, WordPress, HTML, CSS and much more. Categories would be Car repair templates, Electronics templates, School template and others. For example: if a customer is looking for a bootstrap car repair template, he will just need to apply two filters, type: bootstrap and category: car repair template. As a result, you can filter a lot of themes and see only the ones the best matches your interest.
Generate function
In the new version of our website, you do not need any virtual box or another tab to generate code. In our new design, you can simply generate code and let it open your page in a new tab. This feature does not only save time but it is very convenient to have all your work on the same page and you do not need anymore to have your code application running in order to change anything because now you can simply do it on Gridgum website.
---
Share:
Tags:
Gridgum Marketplace
,
Template Marketplace