HAIKU – The new tool for animation / 29 September 2018 - 18:07:25
HAIKU for better design layouts!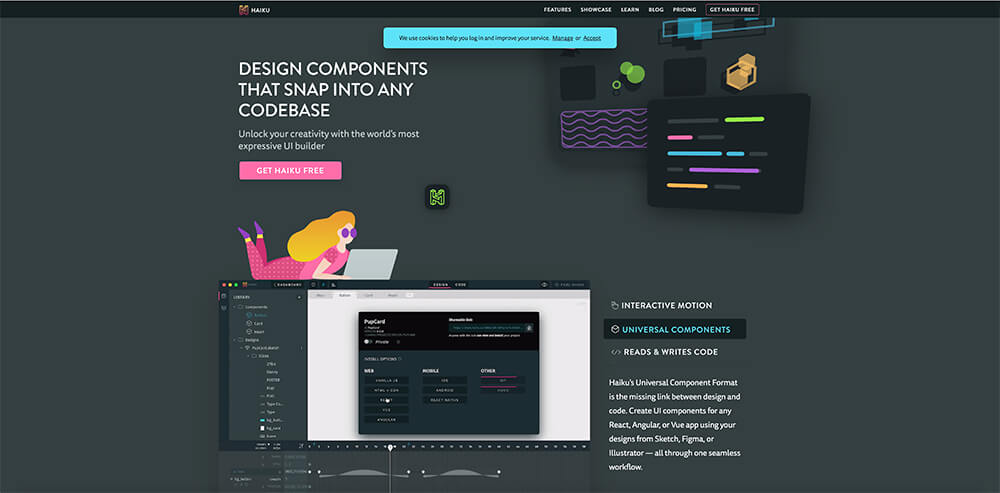 In this article, we would like to present you the brand-new tool on the current market, HAIKU which is the designed instrument for the animated user interfaces which are created for the real applications. To put it simply you can imagine HAIKU to build creative UI components, snap them into existing codebases like Android, iOS, Web and etc. The design can always be edited through your design tools and with the help of developers.
For HAIKU it does not matter what you are using the existing tools, text editor or both, it still can be able to assist you in building the product in a right way.
HAIKU team is constantly developing the product and trying to make suitable for various software. Recently, they have launched the HAIKU for Mac, motion design and UI-building and to make the HAIKU core the free-source. Moreover, the HAIKU render, and design code component format is available for free public preview as well. The HAIKU has solid corporate principles and culture which is guided through one unique sentence: Sharing is Caring. Therefore, they try to make their products free source and assist web designers with the creation of unique and sophisticated designs.
So, the question of why animation?
HAIKU's core services are designing and building the applications, however, they decided to integrate the motion designing as well. The animation is one of the most important building blocks of web or app design, customers are used to it and easily notice if it's missing. Even though the animation is universal, it was only created (for software) only twenty-five years ago.
There is no shortage of prototyping tools and designers can easily communicate toe developers to make the code the "genuine thing". HAIKU can generate the code that will give the starting point to developers, however, we should take into consideration that none of the designing tools can make it till the finish line.
HAIKU also believes that to be an independent UI designer one has to know the hot code. However, approximately eighteen months ago they decided to create a platform where designers and developers would be able to collaborate easily. Unfortunately, the platform is not perfectly functional and is still under the development, but customers can still use the HAIKU and preview it which is completely free.
Today, you can use HAIKU to create animations, interactive components and afterward integrate them in any website or application. Moreover, using LOTTIE, one can also build animations for iOS and Android applications. HAIKU creates an opportunity for designers to monitor their creations with Git which is powered by GitLab and afterward deliver the design components to developers via the HAIKU CLI.
These are the features that one would be able to find in HAIKU:
• Multi-nested components
• Richer animation features
• Layouts
• Checkboxes, text boxes and etc.
• Team collaboration features
• Drawing tools, support for Illustrator and Photoshop
AS it was mentioned above HAIKU is free however they also offer the premium version. If you employ the FREE version, then you would be able to:
• To access the unlimited Public Projects that are posted on HAIKU
• Code Export (Angular, Vue, iOS, Android, React)
• Project files while being offline
• GIF Export (Medium Quality)
• Open Source core (File Format)
• Drawing tool integration (Adobe Illustrator, Figma, Sketch)
As you might notice there are various features that FREE HAIKU deliver and there are more which are not listed here. Therefore, if you are looking for sophisticated tools for creating the animations, then the HAIKU should definitely be your choice.
However, HAIKU also has the premium package which is even richer and delivers more benefits and better quality. For instance, one can access the unlimited private projects on the cloud which is shared and stored. Moreover, HAIKU pro delivers the full offline support for the users and also GIF export which is very high quality. The price for HAIKU pro is pretty moderate, it is 19 US dollars on monthly basis. However, if you want to pay annually, you can contact HAIKU and negotiate the price.
Even though HAIKU is the new product on a market, it is still popular among the designers and most of them are highly satisfied by provided services. We hope that the provided article will help you to create unique, sophisticated and modern animations and interesting website or application layouts.
If you are interested in HAIKU and want to learn more about how it works, please click on the following link and visit their official website: https://www.haiku.ai/
---
Share:
Tags:
website design