Information
Video Tutorial
Related Templates
Comments (229)
WordPress template Radio Station
This is the WordPress version of the most popular radio theme design. We have 2 other versions with this design: The bootstrap version which can be seen here: https://gridgum.com/themes/online-radio-station/ 
Because bootstrap versions of this theme is very popular with our customers, we decided to create a second WordPress version of this Online Radio Station Template.
As I mentioned above, radio themes gained quite an interest with our users, because as the internet itself develops, absolutely anyone can create one's own radio broadcasts online and, interestingly enough, it doesn't require any license for the provided radio frequency and can be done free from any other bureaucratic complication. Nowadays anybody can open their own Online radio broadcast, which is why we are asked how to create an actual online radio very often. We have published an article in our blog so that we wouldn't have to answer each customer's question separately. The blog post titled: How To Create Real Radio Station & Internet Radio Station Too can be viewed here: https://gridgum.com/all-about-real-radio-station-and-online-radio-station/
In this article, we have explained thoroughly everything regarding creating a radio station with minimal expenses or a real, certain budgeted, radio studio broadcasting on a specified radius.
As mentioned in the blog article, this theme is created in the WordPress CMS system. Now we wouldn't want to bore you with detailed explanations of CMS, but we'll tell all of our inexperienced users that CMS stands for Content Management System. The most important thing to consider here is that one DOES NOT require special knowledge or experience for any theme created with this system, anyone can manage the website: alter texts, upload images, create pages, categories, blogs, post articles in that blog, allow customers to leave comments. So to be brief, almost anything is possible with the WordPress system, which is exactly why we decided to create our most popular radio theme in this system.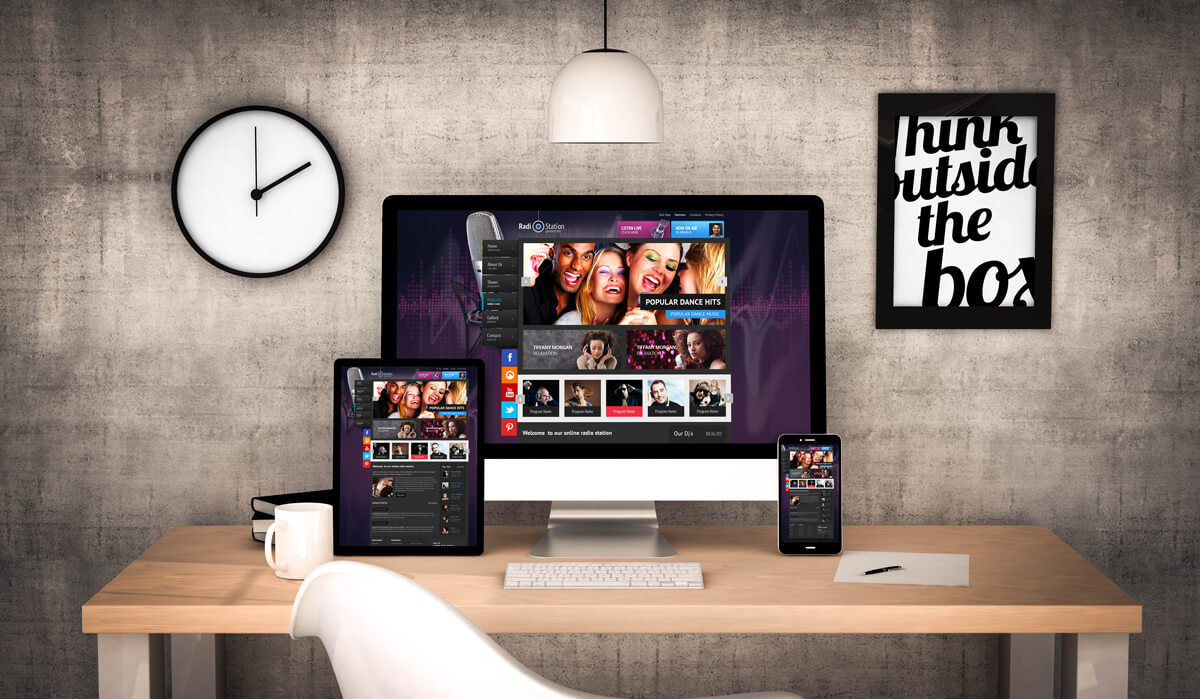 We would also like to state that WordPress is an open-source system, which basically means it's open for any programmer to alter the site, creating special plugins to functionally enrich your website.
WordPress plugins are functionally diverse. Below Gridgum will list a few of them, so you understand the meaning better.
All In One SEO Pack is the name of the plugin, that allows the site's owner to make, what is called, an SEO optimization without any extra knowledge
UpdraftPlus WordPress: With the help of this plugin, you will be able to easily create a backup of the website, thus protecting yourself from the server's unwanted surprises.
WooCommerce – The most widespread plugin, which gives your website the functions of an online store. With the help of this plugin, your website will gain all the necessary functions that an online shopping website needs, for instance, something like a working shopping cart and so on.
Here you will find different plugins for your online radio. Just look through these and if these don't meet your needs trust me, it's easy to find other FREE ones just by searching "Free radio plugins for WordPress"
And finally, you may ask yourself: Why buy Gridgum's WordPress radio theme? How is it different from any other provider's themes?
We won't insist that this is the best design there is, that's for you to decide, but we can tell you this and be proud of the fact, that no one will be able to find support and instructions like ours. We have a special agreement with the authors of our templates or themes, obligating them to provide any amount of video tutorials for our customers quickly. This kind of comforts our buyers, because if you can't understand something, there's nothing to worry about.
We are taking responsibility for providing you with the best step-by-step instructions for life, however many times and however long it may take.
Ask any desired questions in the comments section above and you'll get a video guide within a day.
NOTE: TEMPLATE PACKAGE INCLUDES ALL ORIGINAL IMAGES WHICH CAN BE SEEN ON THE LIVE DEMO PAGE, BUT DO NOT INCLUDE WORKING RADIO STREAM PLAYER (PLUGIN), IT IS FOR PREVIEW PURPOSE ONLY. IF YOU WOULD LIKE TO USE RADIO STREAM PLUGIN PLEASE BUY IT FROM HERE https://gridgum.com/themes/mstreamradio-plugin/
If you need help with Online Radio Wordpress Theme,
please send us your Questions in "Comments" section and
we will create youtube videos for you and upload it here.
---
---
---
---
---
---
---
$25


| | |
| --- | --- |
| Date of Creation: | 19 January 2017 |
| Last Update: | Never |
| Compatible Browsers: | IE, Chrome, Safari, Firefox, Opera |
| Files included: | HTML, CSS, JS, Files, Images, PSD |
| Documentation: | Well Documented |
| Layout: | Responsive |
| Tags: | radio website template, radio templates, radio station templates, internet radio website templates, online radio website templates, radio station WordPress theme, radio station WordPress, WordPress radio station theme, WordPress radio station, responsive website templates, responsive web templates, Internet Radio Station Templates, WordPress bootstrap, Music Themes |
| Type: | WordPress Themes |
| Categories: | Radio Themes |
| item #: | 30840 |
©
All Rights Reserved Gridgum