Information
Video Tutorial
Related Templates
Comments (36)
mStreamRadio - ShoutCast & IceCast radio plugin for WordPress
We are pleased to take this opportunity and introduce the mStreamRadio player's plugin for WordPress themes. This plugin is the newest product and we offer it on the marketplace for the first time.
The radio plugin gives you great opportunities to spread the audio data all over the Internet. This product can be employed for various businesses, for instance: Online Radio website, Internet radio station website and etc. However, this radio player plugin works only with WordPress themes and it does not work with simple html5 or HTML bootstrap sites.
Here you need only a standard installation process. As all WordPress plugins are installed, this theme is installed the same way. From the WordPress dashboard, you have the ability to do full manage for this plugin(all the changes are done from there).
Our team is making a step-by-step documentation and this documentation is coming with this theme and you have the opportunity to do full management of this plugin. Moreover, we will upload a step-by-step video tutorial in the Video tutorials section and you will know how to install the plugin and set settings.
After mStreamRadio has been installed, on the left side of your WordPress dashboard you will see mStreamRadio, click on it and then click again on "player settings". With the help of this settings, you can set radio player on the right bottom of every page. However, if you do not want on every page, this player to be on the right bottom you can copy the player script and paste on the page you like and place you want it to be(bottom, right, left, middle and etc.). Also, you can put different radio player on different pages(it can be jazz, rock, classical music and etc.). The choice is up to you.
It is often asked by our customers about how to create an online radio station? Regarding this we have provided a lot of articles and video tutorials, which can be seen here: https://gridgum.com/all-about-real-radio-station-and-online-radio-station/ From here you will clearly know how to create a real or online radio station, with the least expenses.
If you have never had any experience with WordPress plugin, we give you the opportunity to work with our collection of free WordPress templates, practices a little bit and then do it on your website. Collection of free WordPress themes can be found here: https://gridgum.com/themes/category/free/
Furthermore, you can see the official preview of the product which we offer you. Please follow the link and preview the product to see how it will look like on your website: https://gridgum.com/theme-preview/radio-one-wordpress/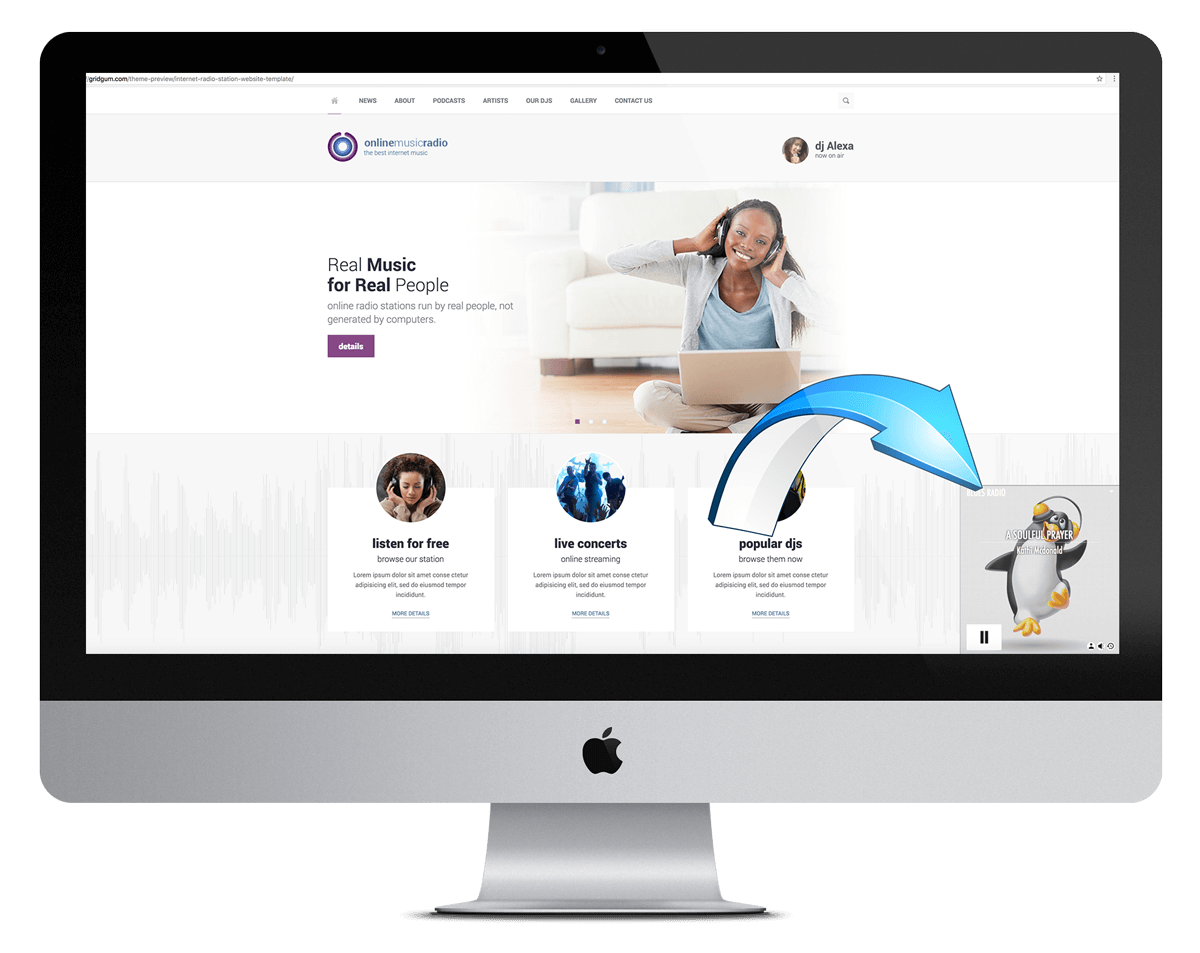 Our support team is very flexible, you can ask any question in the comments section and our team will do step-by-step video tutorials for you especially.
If you need help with RADIO PLUGIN,
please send us your Questions in "Comments" section and
we will create youtube videos for you and upload it here.
---
---
$12


| | |
| --- | --- |
| Date of Creation: | 1 March 2018 |
| Last Update: | Never |
| Compatible Browsers: | IE, Chrome, Safari, Firefox, Opera |
| Files included: | HTML, CSS, JS, Files, Images |
| Documentation: | Well Documented |
| Layout: | Responsive |
| Tags: | radio templates, radio website template, radio station templates, internet radio website templates, WordPress radio station, radio station WordPress, plugin, Music Themes |
| Type: | More Themes |
| Categories: | Radio Themes |
| item #: | 30947 |
©
All Rights Reserved Gridgum