Information
Related Templates
Comments (0)
Photo Studio Bootstrap 4 Website Template
Now it 's time to represent brand new Bootstrap 4 template Photographer, which is a great choice for photographers, photo studios, photo labs and personal galleries. With the help of this template, you can create online gallery, which will be well known and seen by the people all around the world.
As any other our Bootstrap templates, this website template is responsive too. Responsiveness means that the design and dimensions will greatly adjust the device, which it is opened by.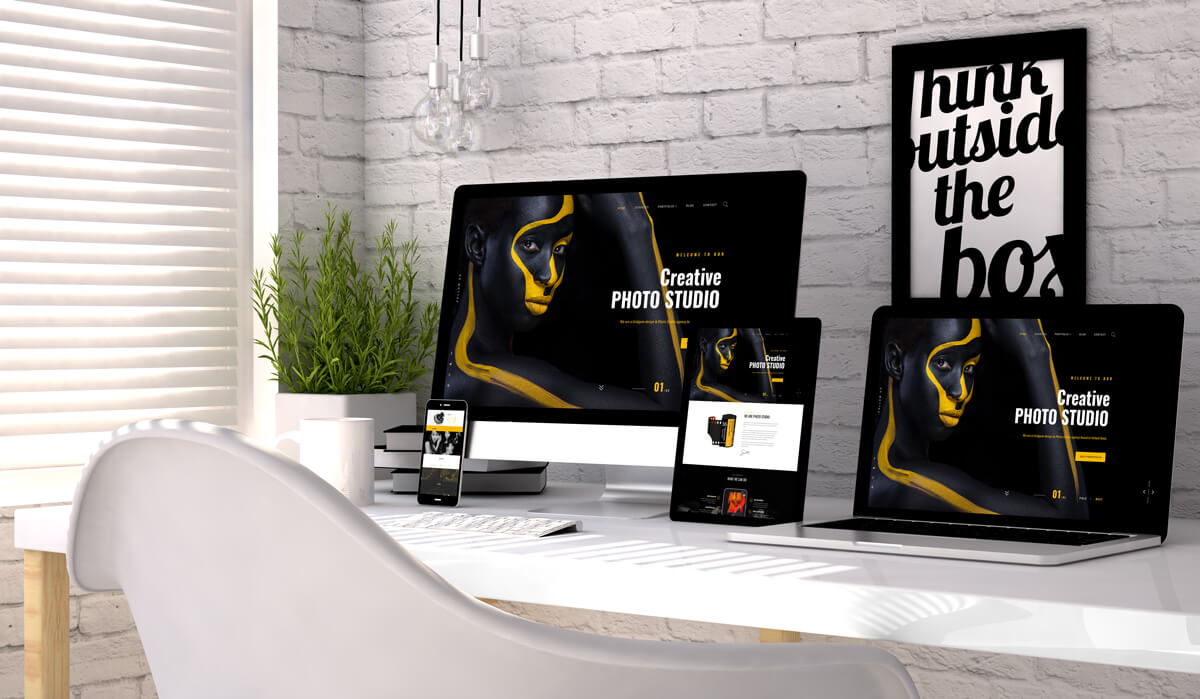 This website theme is created by the latest version of Bootstrap 4, CSS3, and JC (java script) frameworks. If you want to know what are the differences between Bootstrap 3 and Bootstrap 4 you can go and visit official website and read about it, here: https://getbootstrap.com/
From above mentioned link you can download bootstrap 4 and study to work around it and gain some knowledge. However, if you do not have any experience, you can go and download our free bootstrap themes here: https://gridgum.com/themes/category/free/
Now let's discuss every page of Photographer website template.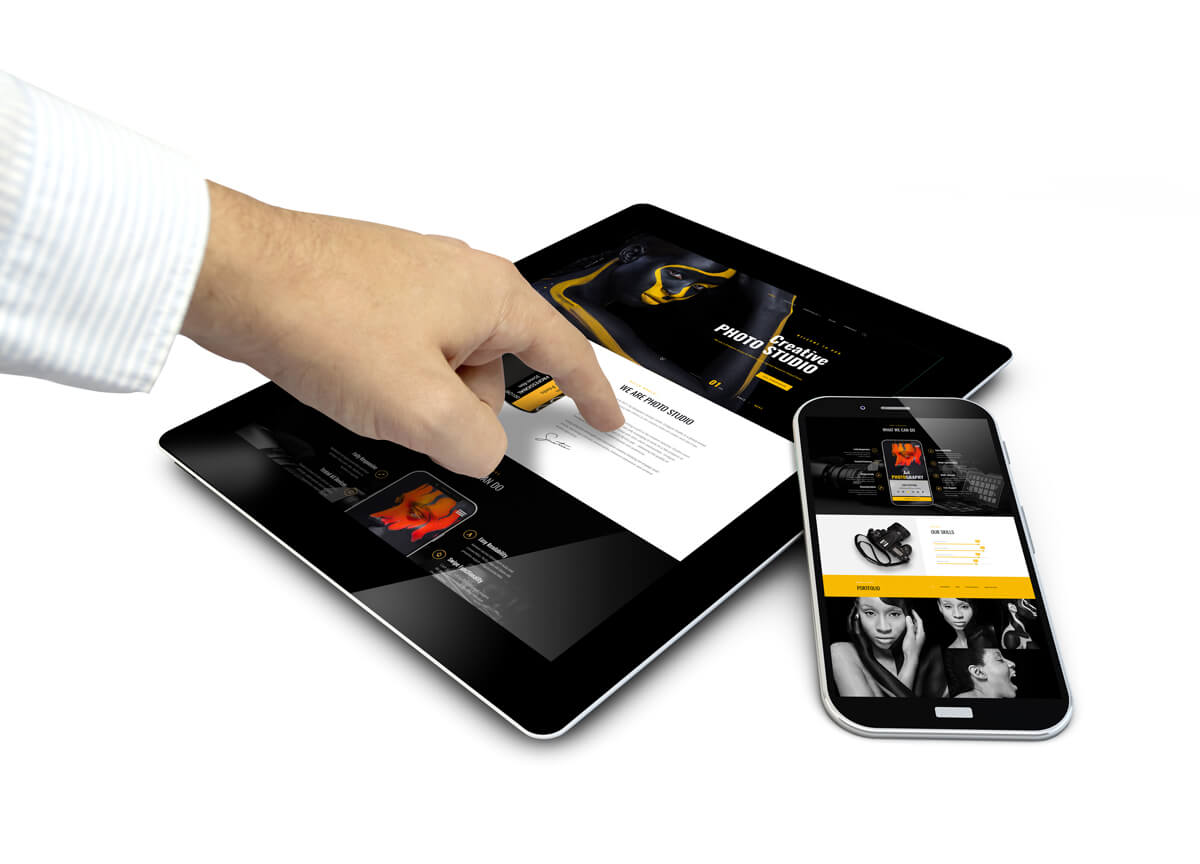 As you can see here, on the home page, is given a slide show. Here you can upload the best pictures, which you have taken, because this is the very firs page and it has a huge influence on the visitor. You can use as many pictures as you wish, and you also have the ability to change the captions on every picture. There is an arrow here and if you click on it you can see a title "We Are Photo Studio". Here can be written information about the studio.
Under it there is "What We Can Do" where can be written a list of service you are offering to the customers.
After that there is a section called "Our Skills" where you should write down all the skills you have and rate them. For example: Photoshop, Development, Website Design, Marketing and etc.
There comes the section called Portfolio, it is a gallery. You can upload as many pictures as you wish and also categorize them. Your designers created a hover, which means when you put the mouse on the picture it becomes colorful.
The last section is Contact Form. Here should be written all the information for the customer to reach your studio. Also there is Google Map Location which makes easer for the customers to rack down the company.
Under the Google map location, you can use the logos of your partner companies.
At the end in the Footer of this template, there are given recent works, recent posts and Contact information.
After those, there comes the 2nd page "About us', where you can write briefly about the company and about its team. You can use their photos and contact information too.
Then comes the page "Portfolio". There are two types of it: full width (which has categorize too) and Simple portfolio. In full width portfolio, if you put the mouse on the picture, there appears two buttons: Big image and information. When you click on the "Big Image" the photo pops up. If you click on the "Information", you will be transferred to another page where will be written detailed information about the photo. The Simple Portfolio has the same functions as above-mentioned portfolio.
After those, there comes the page of "Blog". Here is given two types of if: with Left and Right sides. You should use it to write the newest information for the customers. Also there is a page for Posts (Left and Right sides), where customers write the comments.
The last page is "Contact Page", there is written the email address, telephone number and street address. And as usual Google map location. Although, if you do not know how to set up Google Map location, click on this link and read about it: https://gridgum.com/How-to-Set-Google-Map-Location-in-Bootstrap-Template/
Photography bootstrap template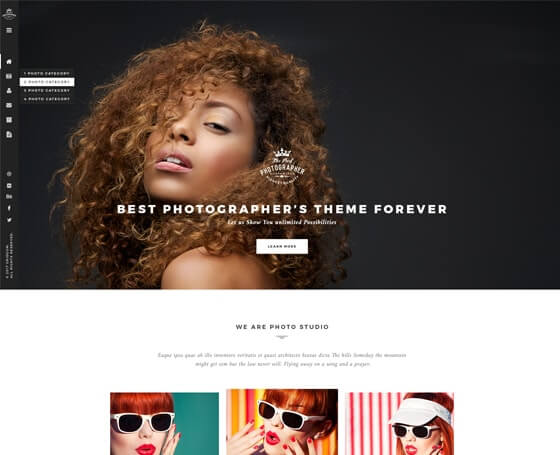 Black & White Labels Bootstrap WordPress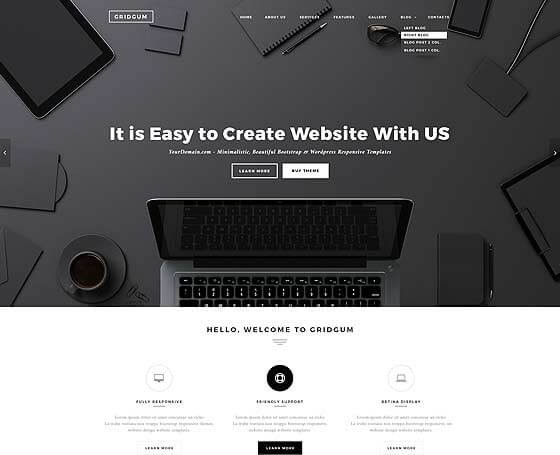 $20


| | |
| --- | --- |
| Date of Creation: | 28 June 2018 |
| Last Update: | Never |
| Compatible Browsers: | IE, Chrome, Safari, Firefox, Opera |
| Software version: | |
| Files included: | HTML, CSS, JS, Files |
| Documentation: | Well Documented |
| Layout: | Responsive |
| Tags: | photography templates, photography website templates, websites for photographers, templates for photographers, photographer templates, bootstrap 4 templates, bootstrap 4 themes, bootstrap 4 |
| Type: | Bootstrap Themes |
| Categories: | Photography Themes, Portfolio |
| item #: | 30977 |
©
All Rights Reserved Gridgum