Information
Related Templates
Comments (0)
Truck service - bootstrap parallax responsive template
This is a Truck Service Bootstrap template which can be purchased and used by businesses or companies that offer various truck services. The Bootstrap template can be used to launch a website with minimum effort and time without any code editing or programming. If you do not know what is Bootstrap and how it works, then please follow this link and read a detailed article about it: BOOTSTRAP
Nowadays, the Bootstrap website templates are very famous on the market since they have a couple of very important advantages. One of the most important benefits is that the template is constructed in a way that all the work is already done. The person will just need HTML editor, for instance, Adobe Dreamweaver in order to alter the website's design based on his/her preference, wishes, desires and taste. As it was mentioned above, Bootstrap HTML templates require minimum effort and knowledge from customers and this explains such a demand for them.
Another benefit that Bootstrap offer is a responsive design, which means that it can access from any device like computers, tablets, cell phones and etc. The accessibility factor is very important since technology develops with a very high pace and new gadgets are emerging very often but owners of Bootstrap template will never face that accessibility problem. Moreover, the website's design will be changed based on the device is it used. To better understand how the website design is altered please click on the button Live Preview and on the upper side of the newly emerged page will be distributed three different icons for cell phone, tablet and computer. By clicking on each of them, one will be able to see how the website design will look like using different devices.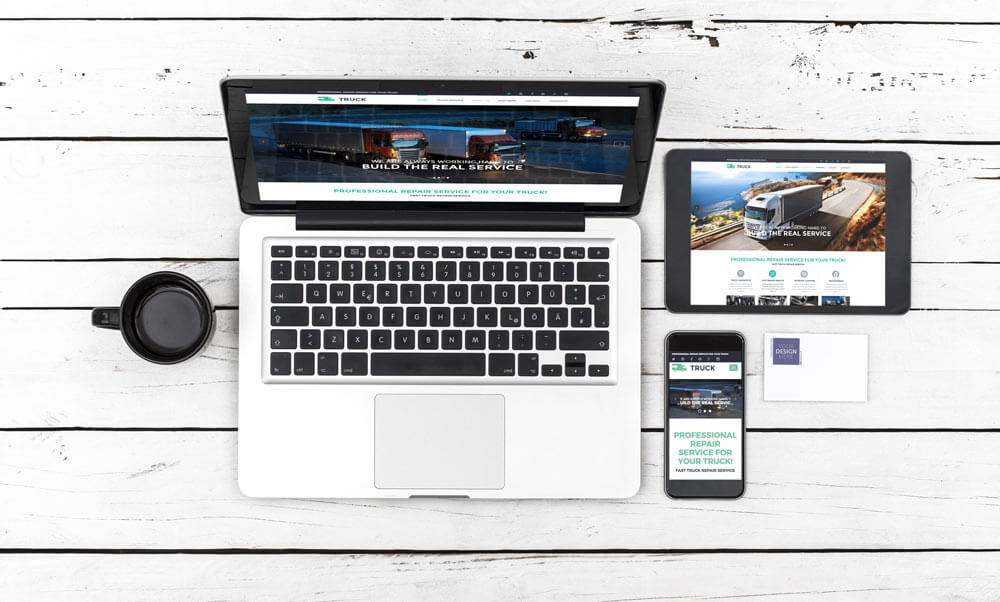 The Truck Service is a simple HTML template which allows customers to edit website's content in a very easy and smooth manner by any HTML editor. The theme can be opened through various browsers like Internet Explorer, Google Chrome, Safari, Firefox, Opera and etc. Various options of compatible browsers decrease the chance of causing the customer frustration because it can be opened from any web directory.
As it was outlined above the Truck Bootstrap template can be employed by companies who offer various services that are related to trucks. Nowadays, it is very important to have a website in order to make as many people as possible aware of your company. The website also facilitates the customer relationship since it gives a chance to be in touch with them all the time. So if your company is operating in truck business and you still do not own a website, then it is your chance to download this template and launch a website.
The Truck Bootstrap template offer six different sections that can be used to present all the company data in a detailed way. These six sections are:
1. Home: In this section should be posted the most important, interesting and engaging information. It is always a good idea to present the company's mission and vision statements to demonstrate what the core values and aims. Include also the visual representations, for instance, the images of trucks.
2. Truck Services: This section has to be dedicated to truck services. It includes four different pages that can be employed to present each service separately and meticulously. Tell your customers why your company is the best problem solver, who are the team members and what experiences they have. Also, include some testimonials in order to increase the company value in front of customers. Testimonials will also boost the company credibility and validity.
3. About Us: In this section should be presented the company's history, for instance when and where it was created. Also, include some numbers, for example, how many trucks have been repaired already, how many days' company have been operating, how many features were added, how many happy customers it has and etc. Include as much information because customers like when they know everything about a company.
4. Partners: This section has to be dedicated to the company's partners if it has of course. Demonstrate their logos and brand names and describe what kind of partnership is there. Also, include their comments and feedback about the company's services and activities.
5. Gallery: In this section should be presented the truck images or pictures of some services that are offered by the company. If you like the images that are presented in this template, then please feel free to use it. They are incorporated in the price that is charged for the Truck Bootstrap templates.
6. Contact: In this section should be posted the contact information like email address, street address, telephone number and etc. There is also included the Contact Form that facilitates the communication process between the company and its customers. There is also incorporated the Google Map Location tool which is the perfect way to demonstrate the exact location of the company. If you do not know how to set up the Google Map location, please the article that is provided here: https://goo.gl/dYNXQn
This is Premium Bootstrap template that is why is charged with the price but if you have never worked with it and do not know what to expect, then feel free to work with Free Bootstrap templates that can be found here: https://goo.gl/uMQ4wg
After gaining some experience you can purchase professional (Premium) Bootstrap templates since it has more features to offer.
If you have any questions, please leave them in the comment section and our support team will get back to them as soon as possible. To have a smooth communication process support group will offer the video tutorials to answer the questions.
The template includes 2 pages, one of them is for the main page and another one is for anything you would wish for.
All pictures(images) that are included in the template are legal and can be used for your website, but not for anything else. In case you want to redesign the template, The package also includes 2-page design in .psd (photoshop) format.
Car Service - Bootstrap Responsive Theme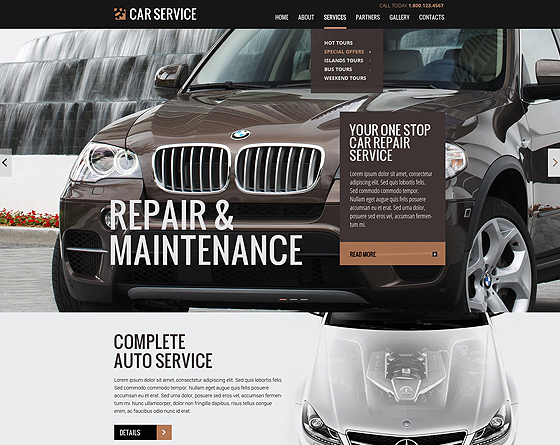 $18


| | |
| --- | --- |
| Date of Creation: | 1 February 2016 |
| Last Update: | Never |
| Compatible Browsers: | IE, Chrome, Safari, Firefox, Opera |
| Files included: | HTML, CSS, JS, Files, Images, PSD |
| Documentation: | Well Documented |
| Layout: | Responsive |
| Tags: | truck templates, vehicle templates, car template, truck website template, transportation templates, trucking website templates, template transport, logistics website template, cargo website templates, cargo templates, HTML website templates, landing page templates |
| Type: | Bootstrap Templates |
| Categories: | Car templates, Landing Page Templates, Miscellaneous |
| item #: | 26231 |
©
All Rights Reserved Gridgum