Information
Related Templates
Comments (0)
Truck service HTML Bootstrap Template
This template is created for companies working in fields such as transportation, truck service and everything else related to motor transportation. It is created with the bootstrap base, there are some CSS and JS animations used. Bootstrap templates are especially famous for their simplicity, as their customization is possible with any HTML editor like Adobe Dreamweaver, Brackets or any other editor.
This template consists of 5 pages, completely enough for a startup business, as these pages have everything that is essential. As I mentioned before, this is a simple Bootstrap template and not a functionally programmed website in PHP. If you do not have any experience in HTML, we are happy to offer you a template with the exact same design in Joomla, which you can see here: Joomla Version of Truck Service Template
If you wish to know what actually is Joomla, you can find out at the above-mentioned link. Shortly, Joomla CMS version is a little different from simple Bootstrap, as it has a special administrator page, where you can (without any extra knowledge) manage your already finished website. You have the complete freedom of choice since that is why we created two versions in the first place.
Now let's talk a little about support.
We are often asked if after purchasing one of our templates, are we willing to help, provided that they find something unclear. Our answer is- YES, a thousand times yes. Even more so, we are offering you full life support service, which doesn't include only simple answers to all your questions, but answers with video tutorials, so you'll be able to understand everything clearly and be 100% sure you are able to do what you need to. This is sort of a one of a kind support, as it is doubtful that you'll find it with any other template provider. So, all you have to do is find our comments section above, ask your question and wait for a swift video tutorial reply.
Finally, we would like to mention that this template package includes all content images that you see on the demo preview page. This means you are not purchasing only a "skeleton" of the website, but getting a fully functional site, as seen on the live page. Every image is legally obtained and everybody who purchases out template has a full right of using them in this specific template, and not other personal websites. So get our new Truck Service bootstrap version template and expand your list of customers as well as your business. Gridgum wishes you the best of luck.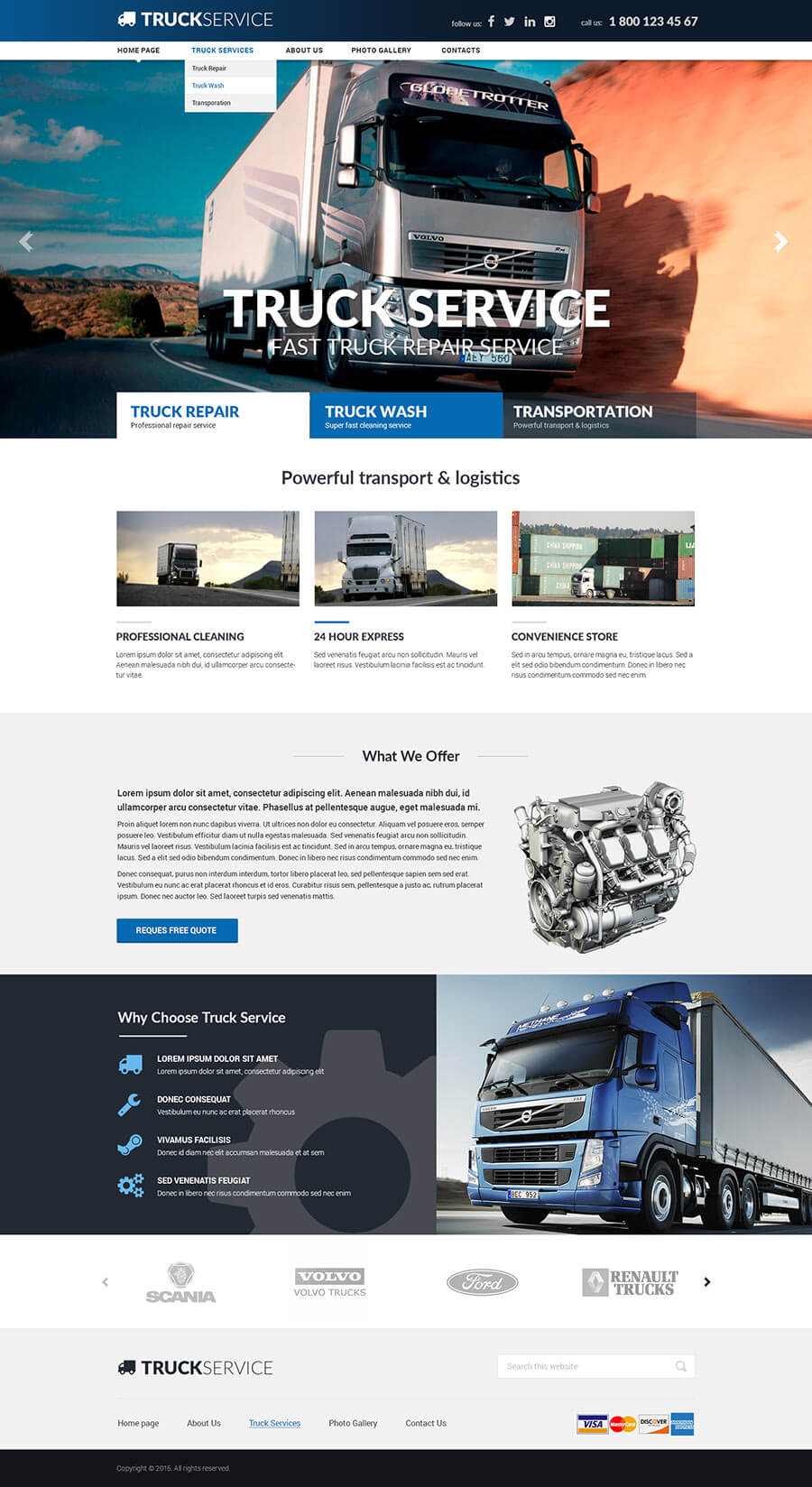 $14


| | |
| --- | --- |
| Date of Creation: | 20 February 2017 |
| Last Update: | Never |
| Compatible Browsers: | IE, Chrome, Safari, Firefox, Opera |
| Files included: | HTML, CSS, JS, Files, Images, PSD |
| Documentation: | Well Documented |
| Layout: | Responsive |
| Tags: | truck templates, truck wrap template, truck website template, template truck, trucking website templates, bootstrap templates, bootstrap, transportation templates, template transport, template transportation, transport company website templates, Best bootstrap themes, bootstrap themes, bootstrap css, bootstrap website templates, bootstrap html, bootstrap, bootstrap responsive, bootstrap 3 |
| Type: | Bootstrap Templates |
| Categories: | Car templates |
| item #: | 30876 |
©
All Rights Reserved Gridgum