WordPress.com vs WordPress.org / 7 February 2017 - 16:42:10
WordPress.com Vs WordPress.org
Which One Makes Better Sense?

In the battle of the two WordPress versions, which side should you be on? What's the difference between WordPress.com and WordPress.org? Hint: it all comes down to functionality. If you're interested in using WordPress, you may already know that it's a powerful content management system (CMS). You can use WordPress to create a blog or a full-fledged website, but it can be confusing to figure out which version to use.
This guide will make the process easy. By the end, you'll know exactly which version of WordPress deserves your allegiance. Let's look at both versions individually.
Getting to Know WordPress.com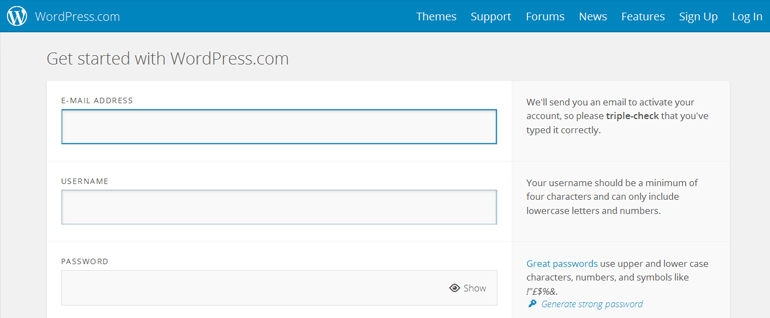 WordPress.com is the hosted version. The only thing that you will need to do is sign up for an account; WordPress will take care of all of the backend, including hosting. You will receive a domain name, such as YourBlogName.wordpress.com. If you'd like a personalized www.YourBlogName.com type of domain, you can register a new one with WordPress for $18 per year, or use one you already one for $13 per year.
There are actually three versions of WordPress.com: Beginner, Premium, and Business. The Beginner option is completely free, and supported by advertisements-- but not your advertisements because this option does not allow you to monetize your site. There is an option to split revenue with WordPress through the WordAds program, but acceptance is not guaranteed.
The Beginner option also offers 3 GB of space.
The next version of WordPress.com is Premium. Premium include 13 GB of space, a custom domain, and an ad-free blog. You'll also have the option to upload and play HD videos from your blog. This version is not free, however. Expect to pay $99 per year for this upgrade.
The final version of WordPress.com is Business. Business has unlimited space, along with everything found in the Beginner and Premium versions. Added features include unlimited premium themes, and the ability to set up shop and sell products and services from your website. This version rings up at $299 per year.
Getting To Know WordPress.org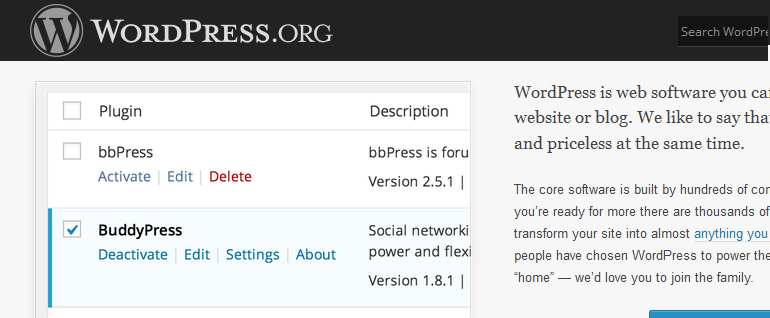 WordPress.org is the self-hosted version. This means, although it's free to download, you'll need to secure hosting for your website so that it can be viewed on the Internet.
WordPress.org is much more powerful and versatile than its .com counterpart. Although you must set up everything yourself, you have complete control over your site. The only ads on your site will be there because you put them there. You won't be trapped into the "free," lesser quality website designs (or themes) provided by WordPress.com. Instead, you'll have an endless supply of premium WordPress themes to choose from, like Austin, Wedding Day, or InCorp.
Both versions of WordPress are free, but you'll acquire additional costs with WordPress.org because you'll need to get a domain name, so that web visitors can find you. This costs around $10 per year. You'll also need to rent space on a web host (a company who lets you use space and bandwidth on their computers.) Prices for web hosting vary, but you can secure a decent host, like M9host.com or BlueHost, for between $3 to $15 per month.
You will also want to purchase a premium WordPress theme. Although you can go free, most free themes have shoddy coding and inferior elements. If you spend the time and effort to do WordPress.org, you definitely want the end result to have a high quality look and function.


Which One Should You Choose?
It's hard to go wrong with free. WordPress.com is an excellent entry point for beginner bloggers. If you'd like to get started with WordPress five minutes from now, WordPress.com is an easy way to go. You won't need to worry about paying for hosting or a domain name.
On the other hand, WordPress.org is the clear choice if you'd like to have more control over how your blog looks and interacts with your visitors. You can create the perfect website without restrictions. WordPress.org is much cheaper than WordPress.com's premium offerings and, with WordPress.org, you have complete freedom.
Choose WordPress.com for personal blogs where you don't expect any visitors. Choose WordPress.org if you're planning on opening up your blog to visitors.
Which WordPress version will you start today?
---
Share:
Tags:
wordpress templates