Affiliating Marketing – Generating Easy Money / 22 May 2018 - 15:57:21
What is Affiliate Marketing and How can we use it ?
Affiliate marketing is one of the most often used ways to have the cash inflow from the blog. Therefore, we decided to explain in this article who affiliate marketing works and from where to start. To explain simply, affiliate marketing is business arrangement between two parties (online retailer and you) from which you get the commission whenever users are buying retailer's products from your link. It is somehow similar to other advertisement types which pays based on clicks and views, but affiliate marketing functions on cost-per-acquisition or cost-per-lead basis. In more simple terms, you will receive money whenever user takes an action and really buys the product. Since, there is a lower risk rate associated with affiliate marketing, it generates much more cash inflow than for instance Google AdSense or various other ads.
But of course, affiliate marketing also requires more research since you have to identify which products and services are needed by your users and readers.
From where to start?
First of all, you have to find the company, product or service that you want to promote and advertise. Basically, products that are related to your website or blog and are useful for your online audience. The chosen company will be entitled as Merchant. Afterwards, you have to go through the negotiations and partner-up with the company, agree on terms and sign the contract. You will automatically become their Affiliate, partner or associate. The minute you will join their partnership program, you will receive the special affiliate ID. The affiliate ID will be used in all affiliated links and included in your website or blog.
There are multiple ways how you can promote the product for instance by writing articles, including the ads, email newsletters and etc. Once the users start purchasing the products, you will get the right amount of commission. The payment system is different for every company, however generally you will receive it in every 40-60 days.
The big question is how you can find the Affiliate companies, products or services?
There are various ways to search for products or companies with which you can partner up and become the affiliate. However, we just highlighted the most popular ones:
1. You can become an affiliate of a product or service that you actually use and find it useful. Then, it becomes very simple for you to convince others why the product is needed and so beneficial. Afterwards, you have to check their official websites and search for the words like Affiliate, partner, partnership programs and etc. Statistically, many companies are searching for affiliates to increase their awareness among the online audience.
2. You can also look through and visit the blogs that are similar to yours. You will easily spot that many websites are using affiliate marketing in order to make easy money.
Look at their ads, banners which are the first things that pop-up when you visit the website. Then to check whether it is affiliate or not just take the courser to the banner and see the link in your status bar. When you push on them you will be redirected to the official website of a product. We also have the affiliate marketing program and to become one is a very easy process. All we require from you is the PayPal email address and the URL of your website. The affiliate program that we offer id quite generous, the affiliates will receive around 30-40% from each sale. To find the Gridgum Affiliate information please click on the following link: https://gridgum.com/new-gridgum-design-what-make-us-the-best/
Moreover, we have the video tutorial which shows how to become affiliate step-by-step, to watch the video please click on the provided link below: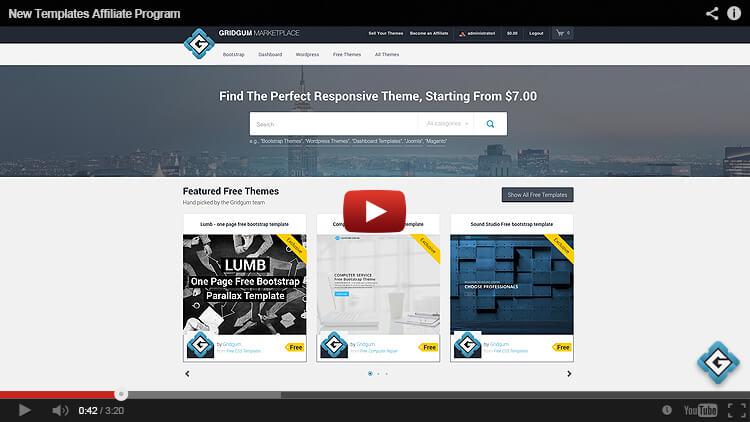 3. You can also join the affiliate marketing networks which act as a middleman between you and Merchants. There are some famous affiliate networks like:
4. Or if you cannot find any information about company's affiliate program, then you can reach them simply by sending them an email. Some of the companies are not publicly promoting their partnership programs therefore you have to contact them privately and ask for the desired information.
As your blog or website will expand it will get more and more complicated to control and handle all the affiliate links, banners and ads that will be distributed on your blog. However, there are great affiliate marketing plugins for WordPress templates that can smoothen the managing process. We would like to outline two of them:
1. ThirstyAffiliates
As it was mentioned above, adding hundreds of affiliate links manually to your website content will become very difficult. Because, you will have to copy every URL along with affiliate ID whenever you reference the product and publish in into WordPress. Fortunately, ThirstyAffiliate can solve the problem easily. It is known as a management plugin for affiliate marketing links and it also allows you to convert the long URLs into short pretty links that look more user friendly. The suggested plugin can also swap keywords automatically with affiliate links that will help you to boom the affiliate revenue. If you want to gain more information, please follow the provided link: https://thirstyaffiliates.com/
2. AdSanity
It is known as one of the best WordPress advertisement management plugin that should be in every affiliate's tool box. It has a single dashboard that can be used to create and manage the advertisement banners. AdSanity plugin can be used to easily publish the ads in your WordPress pages, blogs, sidebars, posts and etc. One can also use the plugin to monitor the third-party advertisements like Google AdSense ads. If you want to get the suggested plugin, please click on the following link: https://adsanityplugin.com/syedbalkhi/125x125
We hope that, our article helped you to understand what the affiliate marketing is, how it can be used and what benefits it brings. After going through the article, you know from where to start and how to generate the easy money.
---
Share:
Tags:
web