The Best WordPress Template Providers / 3 October 2018 - 13:30:48
The Best WordPress Theme Shops
WordPress template is the best strategy to build a sophisticated, highly functional and modern website without incurring a lot of resources which can be financial and non-financial. WordPress has been very popular on a current market because it can deliver various features with requirement small investment. Therefore, many users are interested in above-mentioned templates and want to learn more about it. Since the internet has unlimited space there are emerging more and more providers of WordPress themes. On the one hand, it seems that tougher the competition better will be the delivered product. However, it makes more difficult to distinguish from these providers, the high quality and trustworthy ones. So, we decided to share with you through this article the 6 best WordPress themes providers on a current market:
1. Gridgum
It is the marketplace for various responsive and high-quality templates which can be used to launch a website within a short period of time. Gridgum's main goal is to create and deliver the best collection of various themes like WordPress, Bootstrap, Admin templates and many more. Gridgum offers different packages of templates, for example, they have the FREE templates which can be downloaded without incurring any costs and also the premium version which is traded for a decent price. Moreover, Gridgum is very user-friendly and therefore offers various video tutorial to answer the customers' questions fully. Pricing of templates vary a lot (depends on the functionality of template) and starts from 7 US dollars. The grid has a very rich library and anyone can find the best matching template. If you are interested in Gridgum and want to learn more about its WordPress templates, then please click on the following link: https://gridgum.com/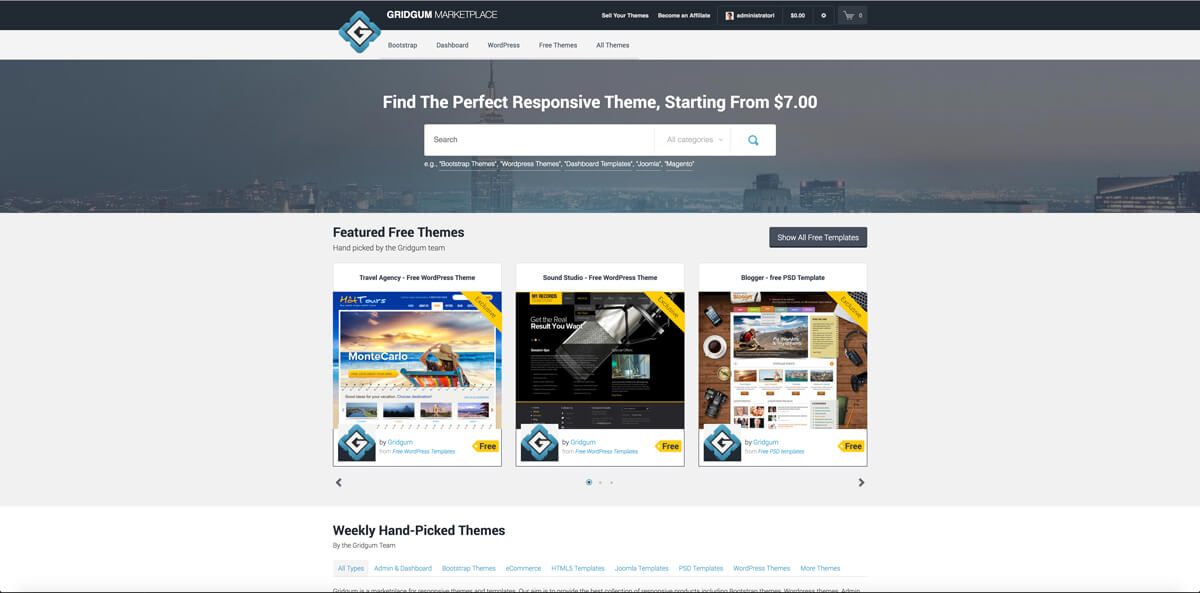 2. Themify
Themify has been existing for a quite long time and has earned a place among the best-established WordPress templates providers. More than 70 000 customers trust Themify and use its services to create beautiful and sophisticated websites. The above-mentioned website offers various templates which have simple but authentic design and can be used for different purposes. Moreover, Themify also offers the Themify Builder which is an intuitive Drag&Drop WordPress page creator. The best thing about Themify Builder is that It is integrated with most of Themify's WordPress templates. The pricing packages are very flexible so that anyone's expectations can be met. For example, one can buy one theme (additionally one FREE theme) for 49 US dollar or access all the themes and various plugins with one-year support for 79 US dollars. Moreover, for 249 US dollars, one can access the Themify template library with unlimited time. If you are interested in Themify, please click on the provided link and visit their official website: https://themify.me/

3. Elegant Themes
It is one of the older and popular WordPress template providers. Elegant Themes has been operating in a market for more than a decade and definitely know their job. Elegant themes have a wide library of templates that can be employed by a various business which operate in different industries. Moreover, if you purchase the WordPress template from Elegant Themes, you will gain an access to Divi Builder, which is one of the best WordPress Drag&Drop page builders on an entire market. If the users are not fully satisfied with the functions of WordPress themes, then the provider will also offer the wide range of plugins that will create additional features. Elegant Themes offers two different price packages: 1. For 89 US dollars, you will acquire one-year access to the template library and support of updates. 2. For 249 US dollars, you will get the unlimited access to the template library and plugins as well. If you got interested in Elegant Themes, then please click on the following link and learn more about it: https://www.elegantthemes.com/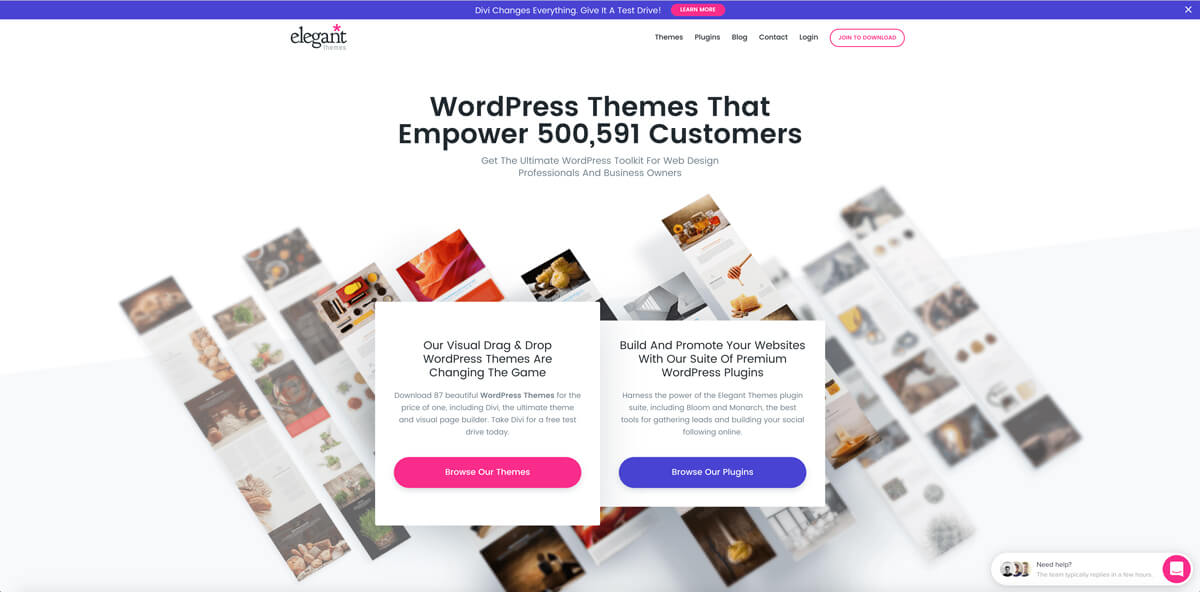 4. StudioPress
It is one of the most popular commercial WordPress templates providers on a current market. All their products are created through the Genesis theme framework, which is appreciated by most of the WordPress developers because it delivers rock-solid performance high-quality code script. Moreover, StudioPress compromises Genesis child templates which are built by third-party developers. However, the quality is the same since they hand-picked by the creators of StudioPress. StudioPress is the most expensive template provide when compared to other ones. The packages start from 129 US Dollars which grants its users the aces to detailed tutorials and unlimited updates. One can also purchase the Plus Membership which costs around 500 US dollars and grants the full and unlimited access to the WordPress templates. If you are interested in StudioPress, then please click on the following link and visit their official website: https://my.studiopress.com/themes/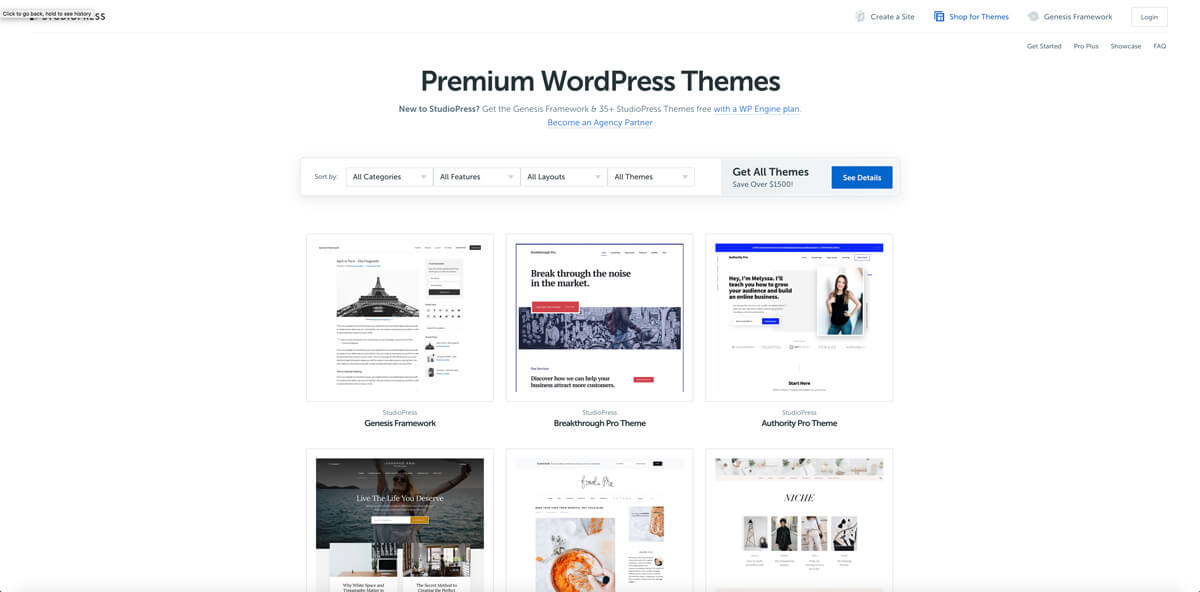 5. Array Themes
Array Themes provides a sophisticated library of WordPress templates. The most distinctive feature of Array Themes' WordPress templates is that all of them come with beautiful typography which looks equally great on various devices and screen sizes. The portfolio templates have a detailed design and are also available for WooCommerce as well, enabling you to handle the products by yourself. Array Themes is more or less a new member of WordPress template providers, however already proved itself and gained the place on a current market.
You can purchase a single template for 49 US dollars or join their template club for only 89 US dollars gain access for one year with the support of updates. If you are interested in Array themes and want to learn more about it, please click on the following link and visit their official website: https://arraythemes.com/?ref=30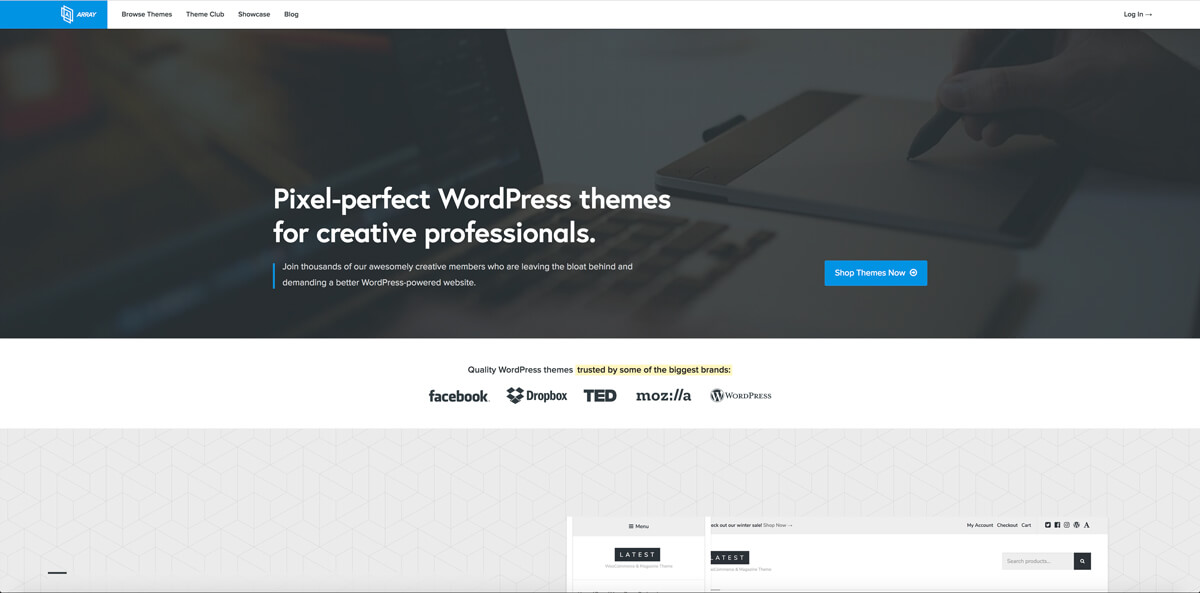 ---
Share:
Tags:
wordpress templates
,
web