Information
Related Templates
Comments (0)
Furniture & fashion stores - eCommerce Bootstrap 4 Template
Now it is time to represent brand new 2 version of eCommerce Bootstrap template – Furniture & Fashion stores. In this modern world, everyone is looking for brand new furniture to set up his or her homes fashionably. Thus, this new theme is a great fit for the businesses that are selling furniture on the internet, those can be: chairs, lamps, tables, sofas and etc. However, this theme can be used for other business too, you just need to change the pictures and its done. This bootstrap template is created by CSS, JS, HTML5(jQuery) and bootstrap 4 frameworks.
If you do not have any experience with HTML bootstrap we recommend you to download one of our free bootstrap templates here: Download and try your experience. After that when you fill that you are ready to work with HTML you can come back and look for professional bootstrap templates.

On the upper corner, on your left, you can see there an option which can change the language and currencies too. However, it is not functional it is for the design only and it should be coded by a programmer.
To customize this theme you need any HTML or Code editor such as Adobe Dreamweaver or any other which you consider best working with.
In the XXI century, it is not news that people not only use computers to surf on the Internet but also iPads, cell phones, notebooks, androids and etc. Thus, it means that it is truly very important that template is responsive. Responsive indicates that the website design will change depending on the device which it is opened by.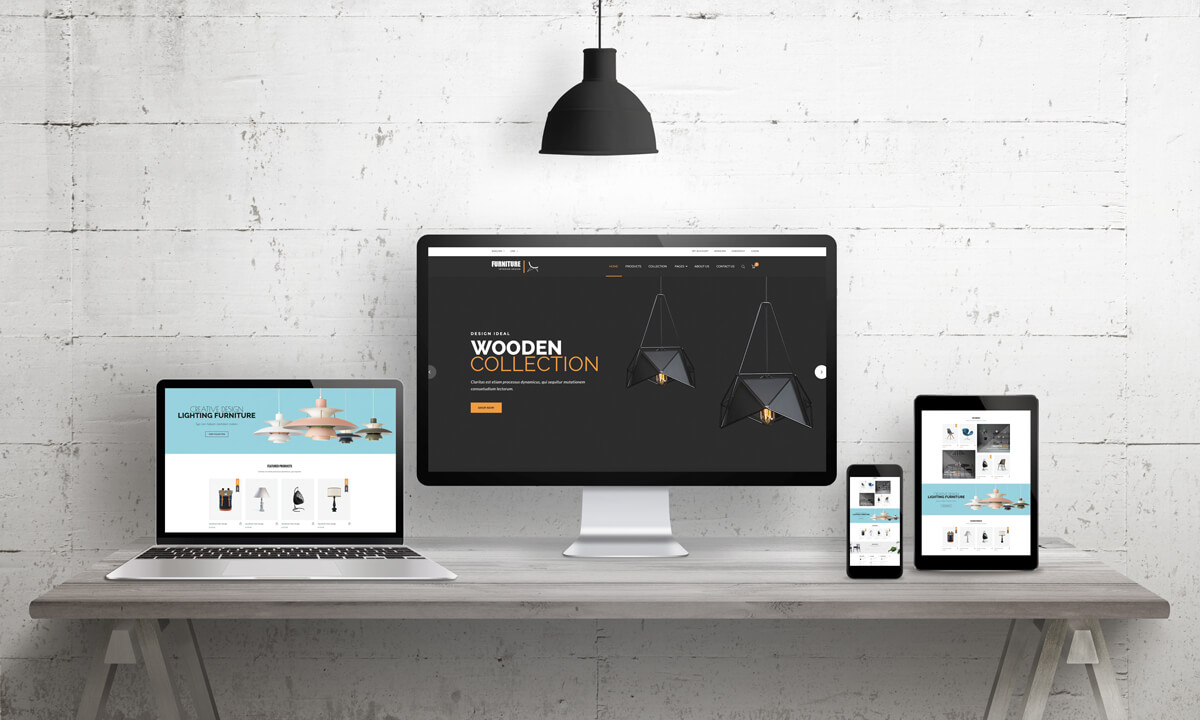 Now let's describe every page of the Furniture Store HTML bootstrap template.
As you open the site where you can see a pop-up window which considers your email address. If you fill the email field it and click on subscribe you will get every news and changes, which will be on this site.
Home - here on the very first page you can see an amazing slideshow which can contain as many pictures as you consider. Below of this slideshow, you can see "About us" were next to it is a video. If you click on it popup YouTube window will appear, this means that you have the opportunity to place YouTube videos. Under this video, you see a sign of "Scissors" where you can put up some advertisements or banners, which you offer.
Under the title "New Arrivals" will be placed new products, which are added now and are brand new. Below this, you will see "Featured Products" which are specifically chosen because of the popularity among customers. Next, to the products there is add to shopping cart button, If you like it you can add it. However, it does not work yet because this is a simple HTML bootstrap template and it is not coded, we just want you to see the design, how it will look like.
When you go and click on "Pages" on the drop-down menu you will see Home. Product Listing, Product Description, Shopping Cart, Blog and 404 Pages.
Product Listing- As you can see here are all the products, which the seller puts up. On the left side, you see how the products can be categorized such as Product type, gender, designers, prices, color options, subcategory and size options. Next to default sorting you see two buttons. The very first one is in yellow color. It means the listing design looks like that in a vertical column. If you click the button next t it all the products will be in a horizontal row. Also, every product has a button "Add to cart" as I have mentioned above it is not functional it needs to be programmed. We are just showing the design how it looks like. If you click on any of the products photos you will see a popup window which shows a quick view of the product.
However, if you need to see the detailed information of the specific product you have to click on the title of the product and you will be transferred on the Product Description, which can be also opened by the Pages drop-down menu. Here you can see every information about the product such as sizes, color, price and etc.
Shopping Cart- As we have mentioned this page does not really works, however, you can see how the added product looks like.
Blog- If you click on the Blog there will appear a drop down menu which indicates Post left or right sidebar. This is up to the viewer some people like it on the left some on the right. Everything else stays the same the descriptions, comments and etc.
404 Page- This page appears when a person writes something wrong or there does not exist the product, which he/she indicated. We created the design for this page because some customers provided that it should be indicated.
Contact us- this is the page where is all the information for the people who want to look for your company. Here is indicated a street address. Telephone number, email address. Also, a form to send an email. Moreover, we created a Google map location to make it easier to look for the place.
However, if you do not know how to set up Google map location, do not worry about it, we have written a lot of detailed articles about it just click the link below and read all about it: https://gridgum.com/How-to-Set-Google-Map-Location-in-Bootstrap-Template/

If you come across with any kind of difficulty please write about it in the comment section and our team will do their best to give an answer. If it is not enough they will create a step-by-step video tutorial just for you.
$17


| | |
| --- | --- |
| Date of Creation: | 6 April 2018 |
| Last Update: | 21 April 2018 |
| Compatible Browsers: | IE, Chrome, Safari, Firefox, Opera |
| Files included: | HTML, CSS, JS, Files |
| Documentation: | Well Documented |
| Layout: | Responsive |
| Tags: | furniture templates, furniture website templates, interior design templates, interior design website templates, ecommerce templates, ecommerce website templates, online shop template, store template, bootstrap 4 templates, bootstrap 4 themes, bootstrap 4, fashion website templates, fashion design templates, fashion templates, bootstrap themes, bootstrap css, bootstrap website templates, bootstrap 5 templates, bootstrap 5, bootstrap html, bootstrap, bootstrap responsive |
| Type: | Bootstrap Templates |
| Categories: | Interior Design, Miscellaneous |
| item #: | 30959 |
©
All Rights Reserved Gridgum