Information
Related Templates
Comments (20)
Radio ON-AIR - WordPress
WooCommerce Multivendor Marketplace Theme
We are ready to introduce the new Radio On-Air WordPress template which can be used to launch a highly functional website. The template can be used by people who want to have an online radio station and also the online shop for various music. The WordPress theme is extremely easy to use and does not require a deep knowledge of coding or experience with programming.
The WordPress templates are extremely popular in a current market since they deliver a lot of benefits. The biggest advantage of WordPress is that it has the Content Management System (CMS) which can be used for modification of the original digital content. The editing of WordPress theme is as easy as typing a text in a Word Document. However, if you have never worked with WordPress templates before, then you can try out our FREE WordPress themes which can be found here: https://gridgum.com/themes/category/free/wordpress-templates/
By employing our FREE WordPress theme, one can get the desired experience without incurring any expenses. After the practice, you can always switch to Premium (Professional) WordPress themes that have more benefits to offer. The Premium WordPress website templates can be found here: https://gridgum.com/themes/category/wordpress/
As it was mentioned above, WordPress templates provide a lot of benefits without demanding a lot of resources which can be financial and non-financial. For instance, if the website will be powered via WordPress, it will never face the accessibility problems. A website will be compatible with various browsers like Internet Explorer, Google Chrome, Opera, Mozilla Firefox and etc. Moreover, the website could be opened by any device like mobile phones, tablets, computers, laptops and etc. Since the WordPress theme has a responsive design the layout will be altered based on the device screen size. In other words, the website will always look perfect, leaving the website viewers highly satisfied.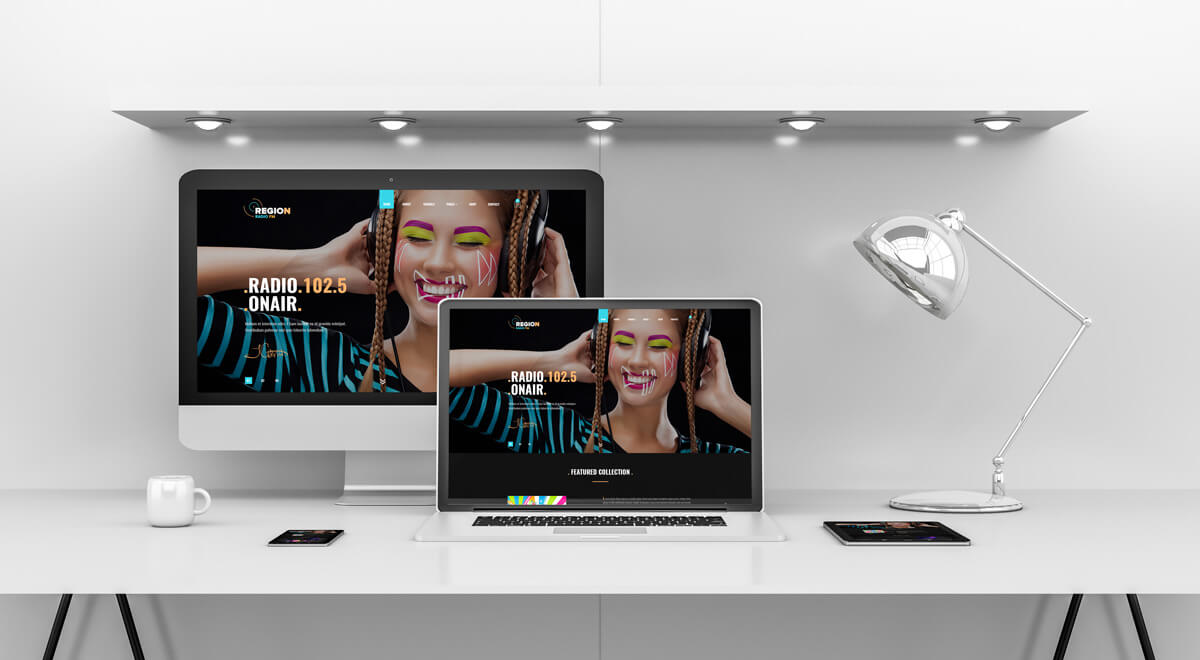 The On-Air WordPress template is unique on the market since it not only can be used for online broadcasting but also for online music selling. The provided WordPress template is a WooCommerce Online Radio Station theme with a fully functional shopping cart. One just has to provide the PayPal account information in order to make the website functional. Moreover, you can install the Dokan plugin and make the website Multivendor marketplace where anyone can upload and sell their music. The feature of WooCommerce can be used to sell any kind of product (not only music) that is related to your business activity.
The suggested WordPress template has seven different pages which can be used to cover all the relevant data in a detailed manner. Those seven pages are:
1. Home – The Home page can be used to publish the most important and interesting information. In the background, different images will appear interchangeably. It is a like slideshow where you can publish various images connected to your radio station. Moreover, you can reflect on upcoming events and show how many days, hours, minutes and seconds are will they happen.
2. About - The given page can be used to write about the radio station, when it was founded, who are the founders and etc. One can briefly reflect on the company history and provide website viewers with the timeline. There is also space for team member information. You can publish their images, their position, experience, education, contact information and etc.
3. Collections – The page can be used for uploading music from different artists and bands. For each album can be provided a small description of its genre, amount of copies sold and so on. Since the radio station will be WooCommerce, interested website viewers will be able to buy the desired music.
4. Channels – the provided page can be used to present different live channels of the radio station. The website viewers will enjoy live radio channel and would also be able to share them on different social media platforms. On this page, we have installed Shoutcast and Icecast Radio Player plugin, but it is for preview purpose only
5. Shop – As it was mentioned the provided template is unique since it also can be used for e-commerce. The Shop page can be used to display various products for selling. The page also comes with the filter feature which will narrow down the search results and help viewers to find desired products easier.
6. Blog -The given page can be employed to post interesting articles about tools and news that are related to the radio station. The blogs always help to boost up the website traffic and to maintain the long-term customer relationship.
7. Contact - the provided page can be used to post the contact information like telephone number, e-mail address, the street address and etc. The website users can easily send you messages via Contact From by providing their names and e-mail addresses. Moreover, there is also incorporate the Google Map tool which can be used to show your exact location. If you do not know how to set up the Google Map location, then please read the provided article:
The On-Air Radio Station WordPress template has more than necessary to have a highly functional website. It provides an opportunity to have an online store and radio station simultaneously. On the current market, we are the only providers of this type of WordPress template, therefore do not miss the chance and make the purchasing decision.
If you have any questions or comment, please leave them in a comment section and our support team will get back to them as soon as possible. We will also offer the video tutorials to have efficient and smooth communication process.
$29


| | |
| --- | --- |
| Date of Creation: | 28 December 2021 |
| Last Update: | Never |
| Compatible Browsers: | IE, Chrome, Safari, Firefox, Opera |
| Files included: | HTML, CSS, JS, Files |
| Documentation: | Well Documented |
| Layout: | Responsive |
| Tags: | radio website template, radio templates, radio station templates, WordPress radio station theme, radio station WordPress theme, radio station WordPress, wordpress radio theme, WordPress radio station, woocommerce templates, woocommerce themes, multivendor marketplace templates, multi vendor marketplace, Music Themes, woocommerce theme, eCommerce features |
| Type: | WordPress Themes |
| Categories: | Radio Themes, Woocommerce |
| item #: | 30988 |
©
All Rights Reserved Gridgum