Information
Video Tutorial
Related Templates
Comments (405)
WordPress internet Radio Station Theme
We are representing the newest WordPress radio station template, under the name: BW-Radio (Black & White Radio), radio theme is very popular in our Marketplace. We have a different type of radio templates like Joomla, HTML5, Bootstrap, WordPress. BW-Radio is Fully Responsive website template. It means that you can see this template in any devices such as iPad, iPhone, in any computer system (Mac, Windows) and in any cell phones too. The main thing of the responsive template is that website design changes depending on the device which you are using.
You can see the responsive design screen below: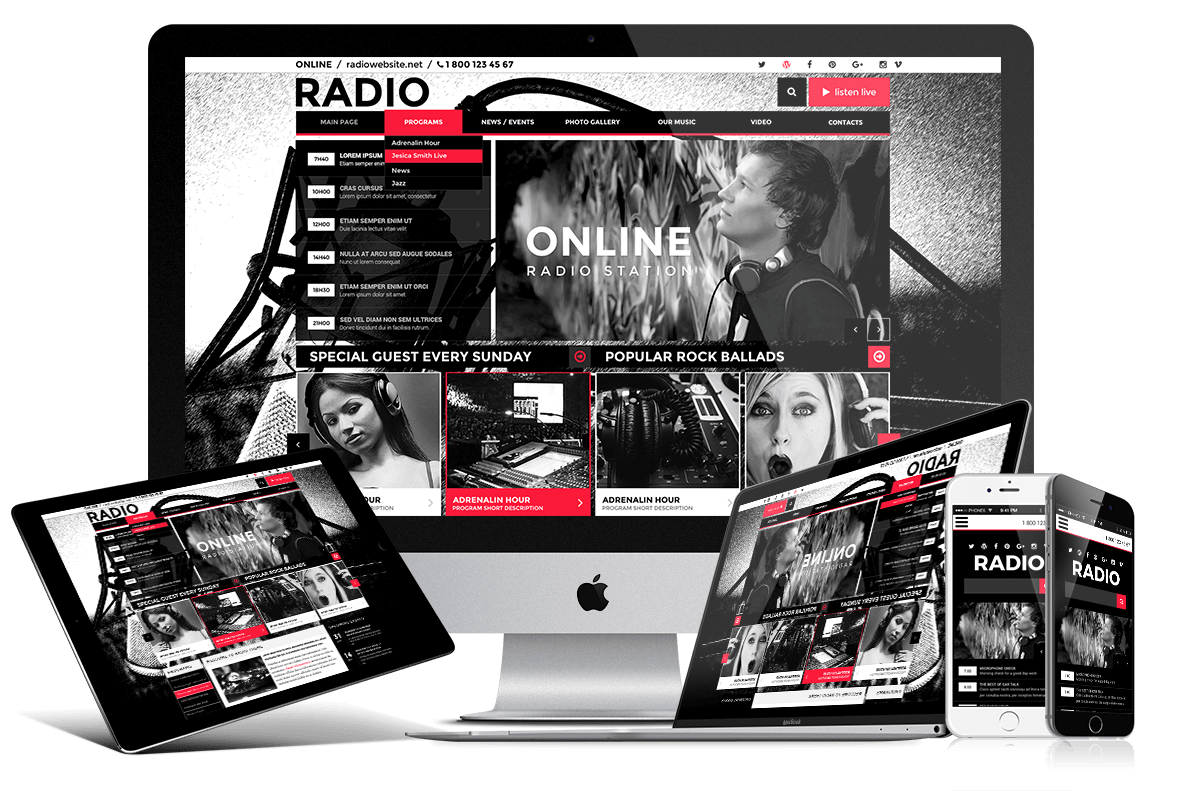 BW-Radio template is created with the WordPress CMS system. In short words - what is CMS?
CMS means: C=Content M=Management and S= System.
Why is it called the Content Management system ? because with this CMS system it is possible to fully control your website without any special knowledge or experience.
You can log in in your CMS system by your username and password which you have set within the installation process. By the page which you can login in your account is named: "wp-admin.php"
please see admin page screen below: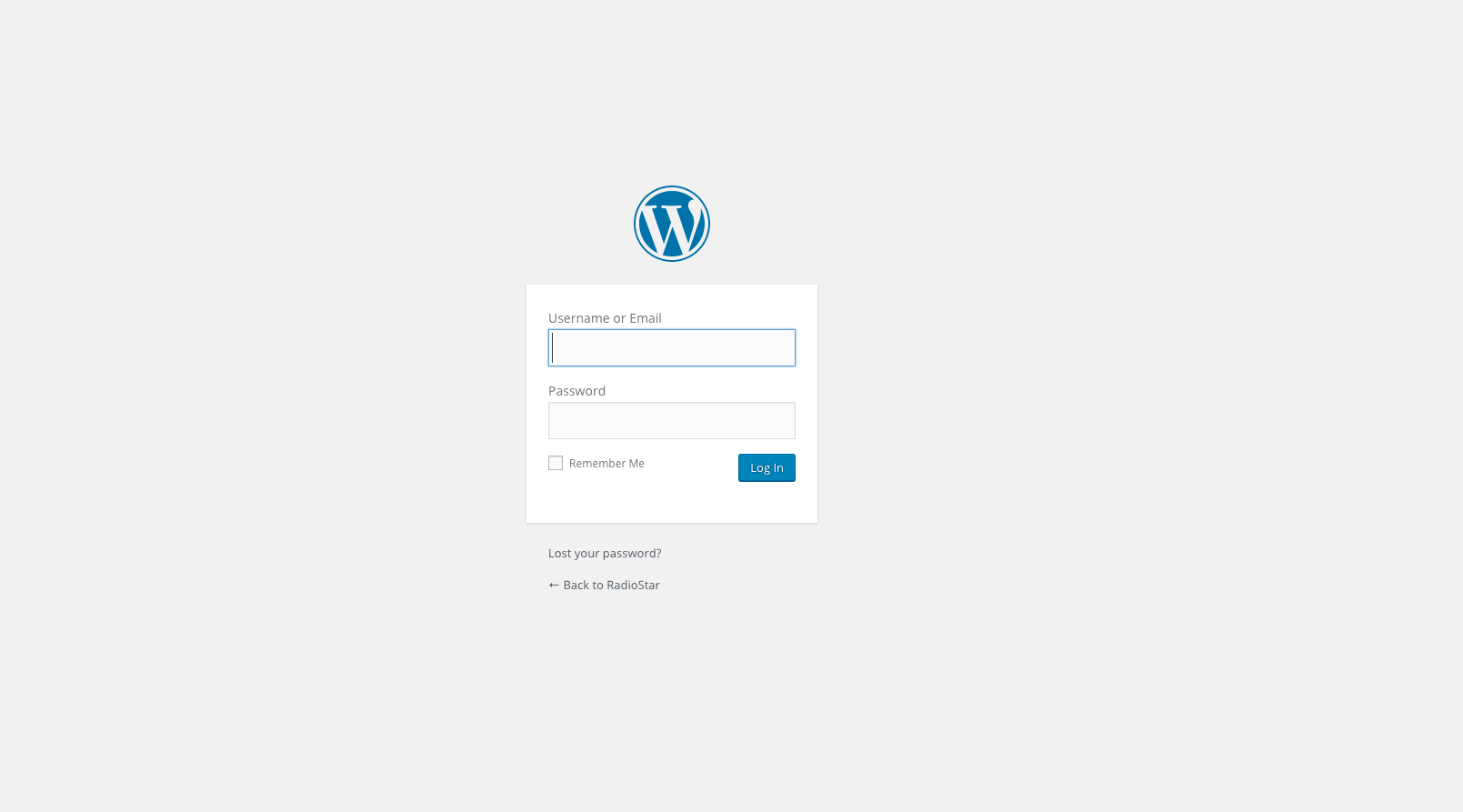 Logged in administrator's page looks like: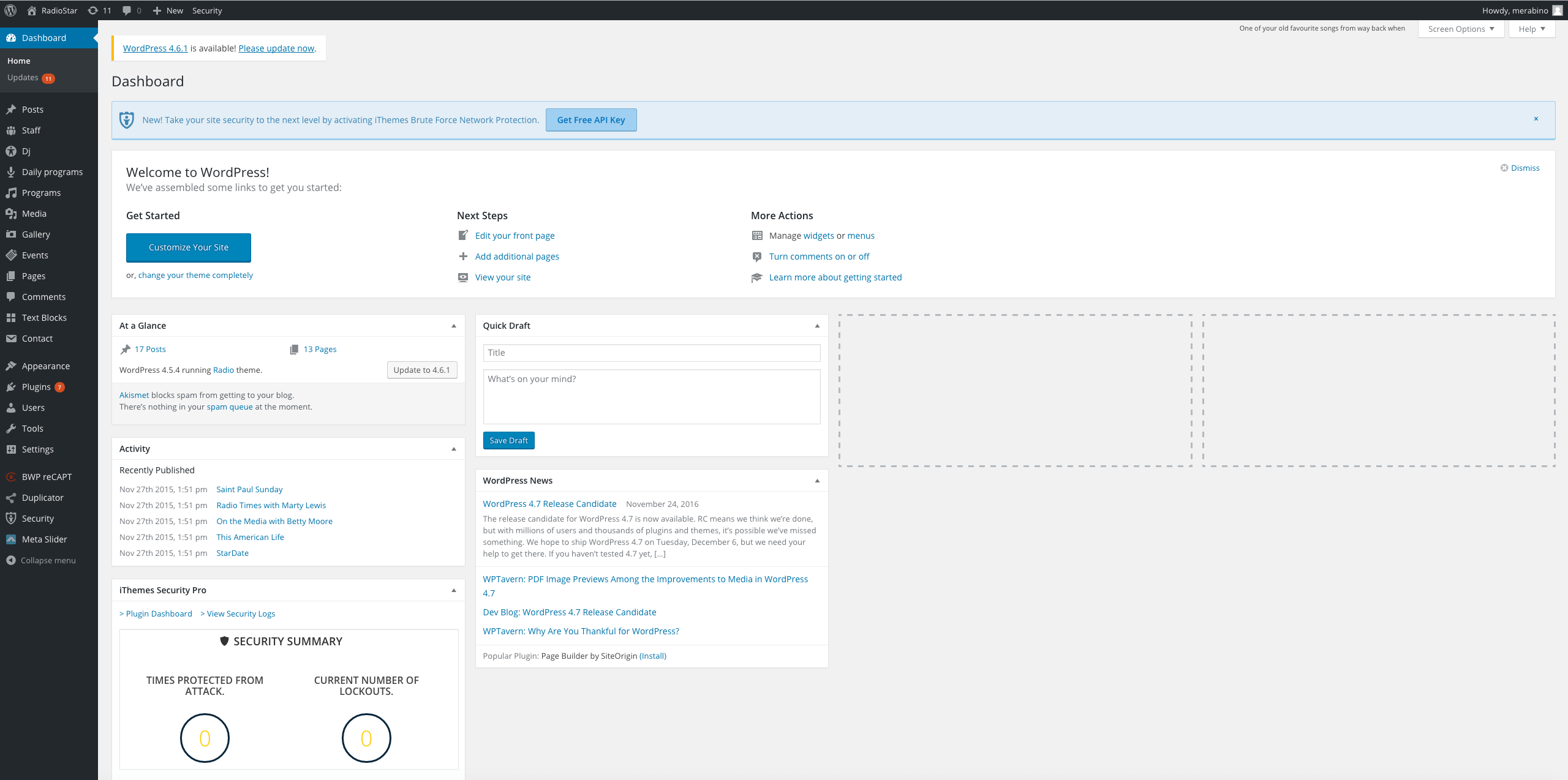 As Wordpress template is very popular today we have decided to create a new radio station template in WordPress CMS system, because this type of system is acceptable for any customers: beginners and professionals.
Also, WordPress has many useful plugins which can be download for free or buy from the official website here: www.wordpress.org
Many template providers sell their WordPress themes without installation service. For this service, the customer must pay an extra $15 - $45. Different from other providers we offer to all our customer's step by step video tutorials especially for each template, and it is uploaded in the section named: VIDEO TUTORIAL (yellow button).
Please click on the Yellow button "Video tutorial" and see all video helps created for this template especially.

If you have any questions to this radio station template - how to write content texts, how to change the logo or other things which are not understood, do not hesitate, we are here to help you at any time. In the section (COMMENTS) above, please write your questions or comments and you will receive the fastest response from our support team. Our guys will create the step-by-step video helps within an hour special for you and upload it in the VIDEO TUTORIALS SECTION there.
As we mentioned above, Radio station templates are very popular today because many people want to create an online radio station as well as the real (offline) radio station. Many of our customers ask about how they can do online or offline radio. We take care of our customers and try to help them to develop their ideas, for these we have published many news and posts on our blog. One of the best posts where you can read all about the creation offline or online radio station for only $50, is written here: Blog Post About Radio
Please write your questions in the comments section and we will try to help immediately.
NOTE: TEMPLATE PACKAGE INCLUDES ALL ORIGINAL IMAGES WHICH CAN BE SEEN ON LIVE DEMO PAGE, BUT DO NOT INCLUDE WORKING RADIO STREAM PLAYER (PLUGIN), IT IS FOR PREVIEW PURPOSE ONLY. IF YOU WOULD LIKE TO USE RADIO STREAM PLUGIN PLEASE CONTACT US.

UPDATES:
Listen Live button bug has been fixed for cell phones. Please see the screen below: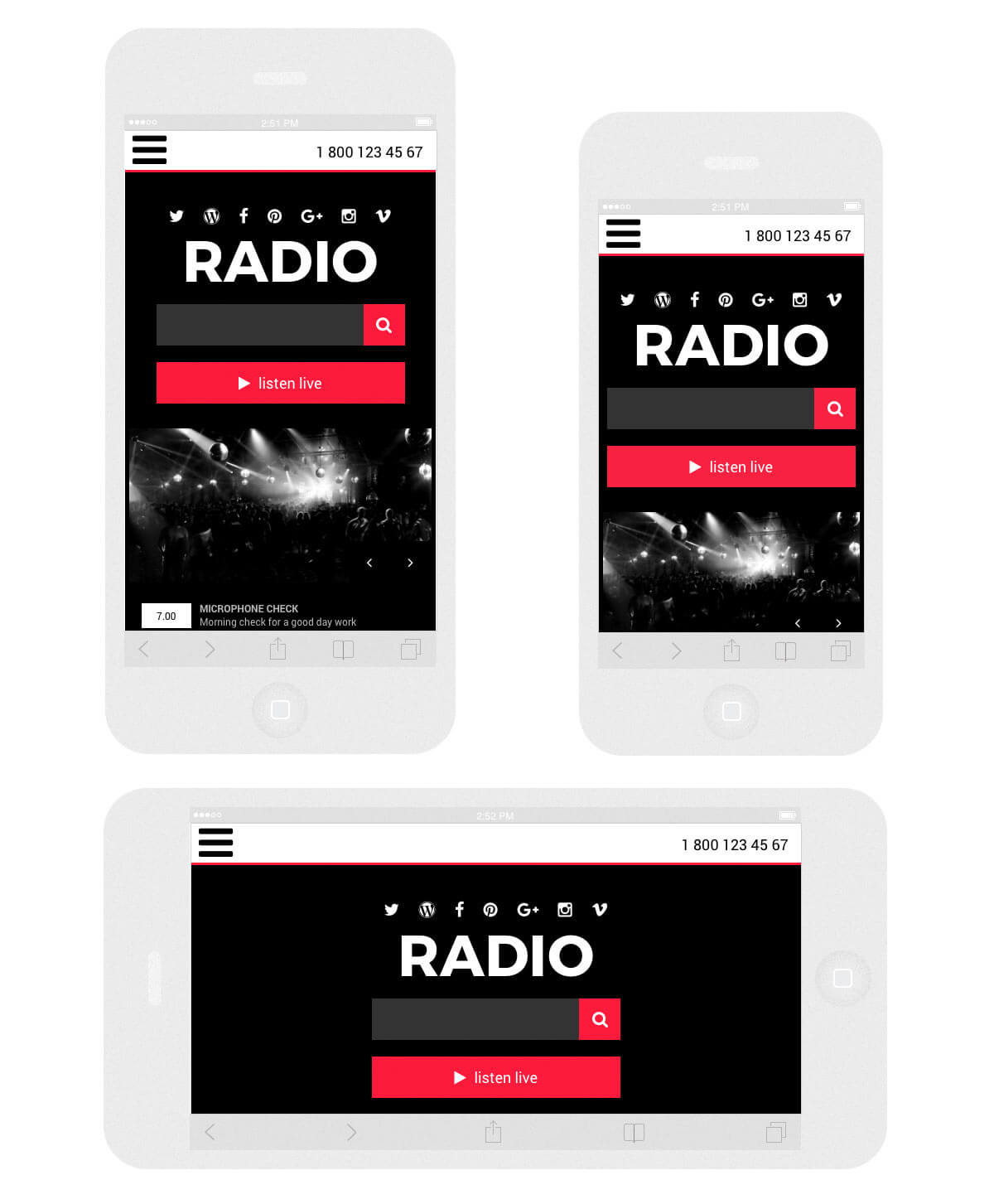 Instruction for customers who have bought this template and have "Listen live" button bug for cell phones:
step 1: please click and download this zip file http://demo.gridgum.com/wordpress/bwradio/updates.zip
step 2: please unzip this file.
step 3: In the "updates" folder can find 2 files:
step 4: Please go to the following folder: /wp-content/themes/radio/css/
and replace (or delete) old main.css file with a new one which downloaded.
step 5: Please go to the following folder: /wp-content/themes/radio/sass/
and replace (or delete) old _header.scss file with a new one which downloaded.
If you need help with BW-Radio Wordpress Theme,
please send us your Questions in "Comments" section and
we will create youtube videos for you and upload it here.
---
---
---
---
---
---
---
---
---
---
$25


| | |
| --- | --- |
| Date of Creation: | 28 November 2016 |
| Last Update: | 31 January 2017 |
| Compatible Browsers: | IE, Chrome, Safari, Firefox, Opera |
| Files included: | HTML, CSS, JS, Files, Images, PSD |
| Documentation: | Well Documented |
| Layout: | Responsive |
| Tags: | radio website template, radio templates, radio station WordPress theme, radio station WordPress, WordPress radio station theme, WordPress radio station, responsive website templates, WordPress templates, cms website templates, best WordPress templates, Internet Radio Station Templates, Responsive WordPress themes, WordPress bootstrap, WordPress bootstrap themes, Music Themes |
| Type: | WordPress Themes |
| Categories: | Radio Themes |
| item #: | 30816 |
©
All Rights Reserved Gridgum