Information
Related Templates
Comments (14)
Region radio FM - bootstrap 4 Website Template
Today we would like to represent a template, which is made by CSS, JS and the latest version of Bootstrap 4 frameworks. This template is created for the companies, which are interested in creating online radio stations. Nowadays having an online radio station is very demandable and popular; also it is very easy to create one. You just need to have a microphone, headphone and etc. This is helpful to spread, for example, information or music all over the world. Before moving on to the templates' brief description, we would like to say a few words about: "How to create an online radio station with minimum expenses". We have written a special article about, How to create an online radio station and also the real one, thus please click on the following link and read all about it: https://gridgum.com/all-about-real-radio-station-and-online-radio-station/ - This will be very helpful for you.
However, if you do not have any experience with Bootstrap templates, do not worry about it, we have created a huge collection of Free HTML bootstrap templates and all of them can be seen here: https://gridgum.com/themes/category/free/
This template is responsive. Responsive means that it will be opened in any devices, which a visitor uses, and it will appear and fit the devices greatly.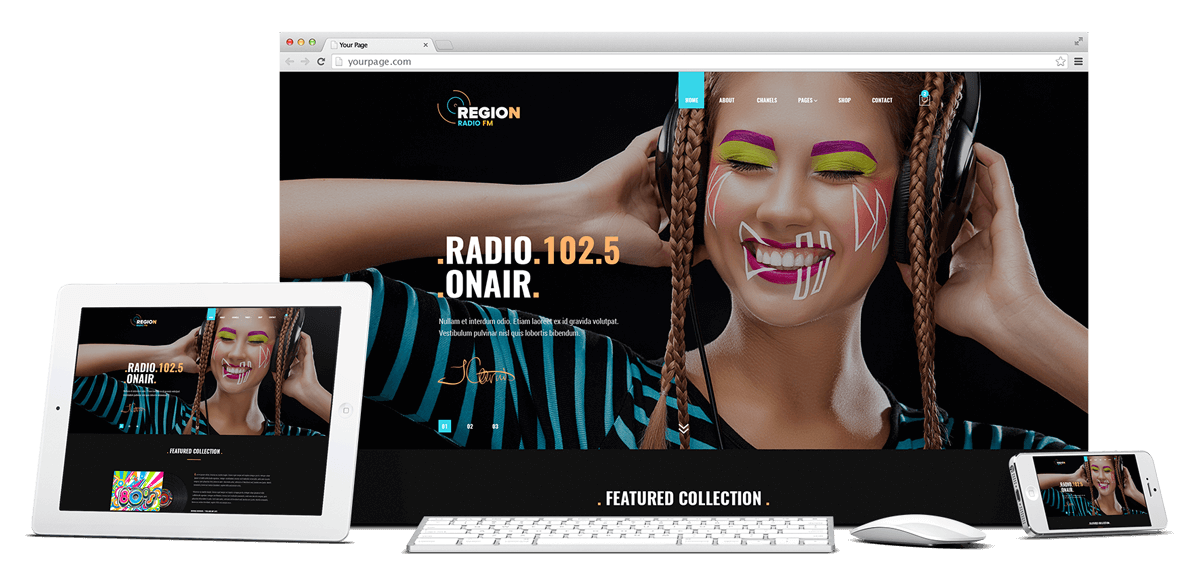 Gridgum has a huge collection of radio station templates, it is very popular on our website. If you Google radio station templates by keywords: "radio templates" or "radio website templates", you will see that we are in the Top 1. The reason is that we created the best radio website templates in the whole online market and depending on the demand we are always improving our products.
This radio template is simple HTML bootstrap, however, it is very different from other radio station templates, because we have created for this template online shop page. If you look up to the menu at click on the "Shop", you will be transferred on that page and see that you can sell T-shirt, mugs, Compact Discs, Music .mp3 files and other things with or without the logo of your radio station. If you click on the product itself you will be transferred on the page where you can see detailed photos, price and etc. Also, there is "add to cart" button and it will be visible on the right corner. After that if you click on the "view cart" button you will see the product, you have the ability to remove it or submit and proceed with the checkout. This is simple HTML template and of course this does not work as a fully functional online shop, however, we promise you that in future we will create a woo-commerce version of this template, which will be a fully functional online shop.
Now let us talk about the template itself.
On the home page as you can see there is a slideshow, which includes 3 photos. However the number of photos are not limited you can use as many as you wish and also add the text, as you like. Under the slideshow there is "Featured Collection" here are the music that is said to be the best. If you click on the play button the music starts right away, if you click on the button, which supposes to switch to the next song it will work also. Here you can add as many kinds of music as you wish. Under that, you can see a title "Upcoming Events". The name directly indicates that under it will be written about the events which are planned right ahead. As you can see there is a countdown clock wish is fully functional. Then comes "Popular artist" section where you can upload their photos and write a little description of them. And at the very end of this template, there is a "Get In touch" section where you can find all the information to get in touch with the company.
Now let us move on to the About us section. As you can see there is a pop-up video, where you can put up YouTube video about your radio station. Now the most intersecting and different page from any other our templates is the page called "Channels". On this page, each channel which is created by html5 radio Stream player is fully functional. Here are given Shoutcast and Icecast radio players. Those players do not include in the template original package, however, if you would like you can buy it (HTML5 Radio Stream player) for 15$ from us.
After that comes "Pages". As you can see in the drop-down menu there are all the pages, which are included in this template. First of all, there is "Music Collection" where are inserted the music which is said to be the best of your choice. Then comes Blog, which has 2 versions: Left and Right Sidebar. The same goes for the Post-it has two versions: Left and Right Sidebar. The last page is Contact. Here is all the necessary information for the customers to get in touch with the company.
The Gridgum team wishes you good luck in your radio business.
$15


| | |
| --- | --- |
| Date of Creation: | 21 July 2018 |
| Last Update: | Never |
| Compatible Browsers: | IE, Chrome, Safari, Firefox, Opera |
| Files included: | HTML, CSS, JS, Files |
| Documentation: | Well Documented |
| Layout: | Responsive |
| Tags: | radio website template, radio templates, radio station templates, internet radio website templates, online radio website templates, best bootstrap templates, responsive website templates, music website templates, music templates, Music Themes, bootstrap themes, bootstrap css, bootstrap website templates, bootstrap html, bootstrap, bootstrap responsive |
| Type: | Bootstrap Templates |
| Categories: | Radio Themes |
| item #: | 30982 |
©
All Rights Reserved Gridgum