Information
Related Templates
Comments (2)
Paint co. - responsive landing page Template
Nowadays, the number of websites are increasing at a very high pace since its extremely important to communicate with the audience through online space. Internet became the most frequently visited place to find the desired information, therefore, it is the best way for promotion and advertising. Noticing this, people created easier ways for a launching highly functional websites and introducing website templates.
Paint co. landing page template is an efficient way to launch and run a high-quality website by consuming money and time. Website templates are very demanded on the market and a high percentage of whole web space is powered by them. If you would like to know more about Bootstrap template, what it is and how it works, then feel free to click on this link and read a detailed article about it: https://gridgum.com/what-is-bootstrap/
The Paint co - Bootstrap landing page theme that we are offering is for companies that are offering house and apartments renovating services. It is the best ways for the companies to promote themselves and make aware of themselves to as many potential customers as possible.
Templates do not require a deep knowledge or experience of coding because the most of the work is already done. You will simply have to alter the existing design based on your preferences, taste, and wishes using any HTML editor, for instance, Adobe Dreamweaver. But if you still have doubts about acquiring HTML template and its outcome, then try out the free HTML template to see how it operates. We have a rich collection of free Bootstrap templates that can be found here: https://gridgum.com/themes/category/free/
We also offer other website templates for companies that offer house renovating and painting services, please follow this link and you will be redirected to the collection of those themes: https://gridgum.com/themes/tag/painting-templates/
The suggested Responsive Bootstrap Theme can be used to launch a highly functional website which will provide customers with all the necessary and important information about the company and its activities. By having a website company will be able to persuade the potential customers that they the best service provider and problem solver. In our century and decade, it is extremely important to communicate with customers through online space and offer them digitalized information. So if your company is operating in this industry and you still do not have a website, then this a great opportunity to acquire one. Investing in our template is a wise decision since it is traded for a decent price and offer a lot of benefits.
The provided theme is a Landing Page website template that consists of two pages. The Landing Page template has enough space to reflect on every aspect of the company, present all the services, price range, and contact information.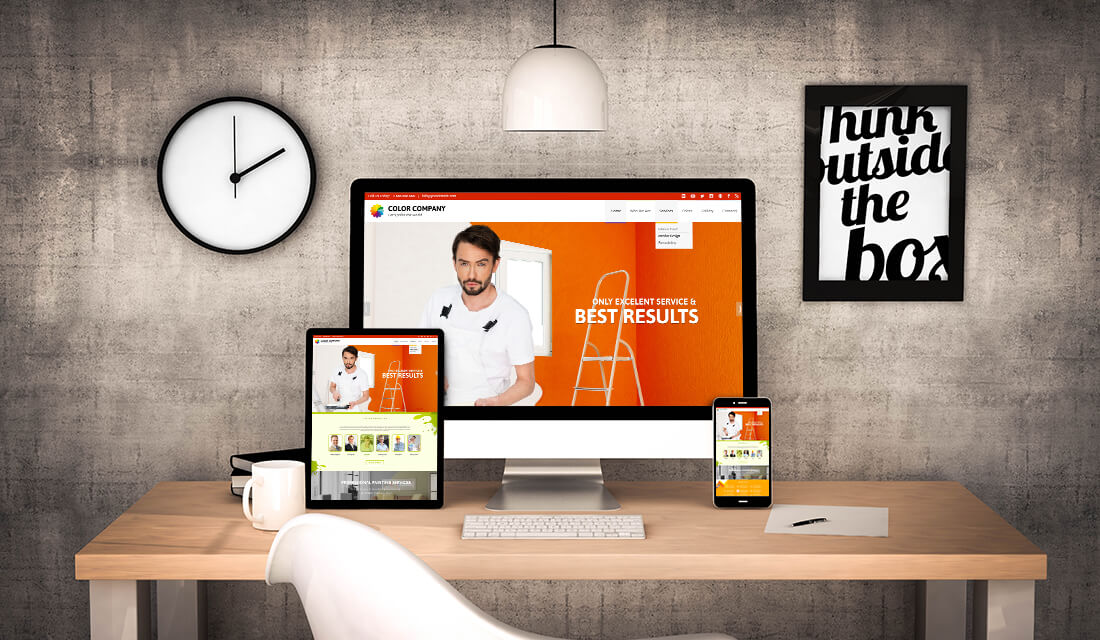 The Bootstrap theme has an intuitive and responsive design which implies that it can be accessed from any device like mobile phone, computer, tablets, laptops and etc. It is also compatible with various browsers like Opera, Google Chrome, Internet Explorer and Mozilla Firefox. In other words, your website will never face the accessibility problems and will always be available for viewers 24/7. Moreover, the website's design will be changed depending which gadget is employed to access the webpage. In other words, the website design will always look flawless leaving both company and viewers highly satisfied.
If you have never created a website using the web template, then our team will help you with every step of this relatively easy process. We are offering you two different articles which will explain in a detailed manner the steps to build up the website. There are:
After reading these articles you will not feel confused anymore but if you still do please ask the questions and we will be more than happy to assist you. Please leave your questions in the comment section and our support team will get back as soon as possible. To answer your questions, the video tutorials will be offered that will facilitate the explanation process.
$15


| | |
| --- | --- |
| Date of Creation: | 25 January 2018 |
| Last Update: | Never |
| Compatible Browsers: | IE, Chrome, Safari, Firefox, Opera |
| Files included: | HTML, CSS, JS, Files, Images, PSD |
| Documentation: | Well Documented |
| Layout: | Responsive |
| Tags: | landing page templates, landing page, landing page design, landing page html, painting company website template, painting templates, House Painting website template, templates for painting, website templates, responsive web templates |
| Type: | Bootstrap Templates |
| Categories: | Landing Page Templates |
| item #: | 30937 |
©
All Rights Reserved Gridgum