Information
Related Templates
Comments (0)
Soccer Team (football) - Bootstrap responsive template
This is Soccer Team Bootstrap theme that is ready to be downloaded by you for a very little charge. But if you are inexperienced and have never worked with templates before then feel free to go through our Free Bootstrap Templates here: https://gridgum.com/themes/category/free/
We also going to help you with every step of having your own website by our helpful articles:
By reading these three articles you will be able to manage the Bootstrap template and have your own website which all can be done for free. But if you are still interested in Premium Bootstrap Templates then feel free to visit this page: https://gridgum.com/themes/category/bootstrap-themes/
And once you buy the Premium Bootstrap template it will be upgraded for free every time we will add some pages and features to it.
This is Football Bootstrap template, which can be used by any football club that wants to demonstrate their players, games and etc. It does not matter what kind of club it is, professional or amateur and who are its members, adults or children, it can be used by everyone. Also if you are a football player who wants to represent himself to the audience then he can use this template as a portfolio and include all the information about himself.
To run the Bootstrap template, you will need an HTML editor like, Adobe Dreamweaver, which will change the theme based on your preferences and wishes. If you have some questions about Bootstrap, how it works and please follow this link, which will forward you the detailed article about Bootstrap: https://gridgum.com/what-is-a-bootstrap/
This Bootstrap Template is fully responsive, which means that it can be accessed from any device like computers, tablets, mobile phones and etc. The best thing about the responsive template is that it changes the design depending on which device it is opened. In other words, your website will always look perfect, to demonstrate the given statement please see the images below: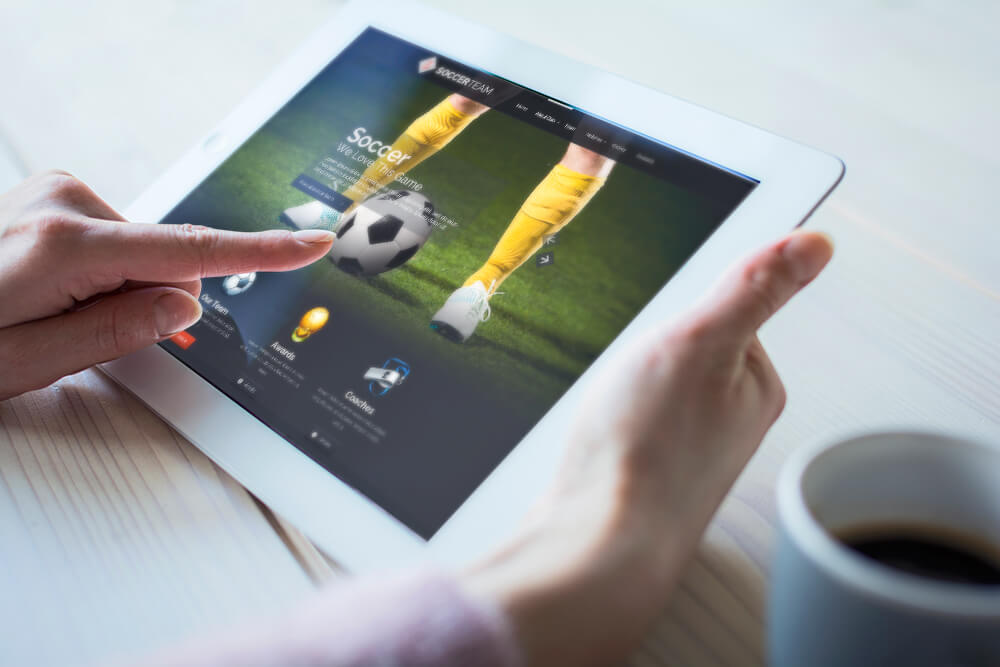 If you want to better understand what is a responsive template and how it changes its design, then please click on the button Live Preview. On the upper side of template there are distributed three icons computer, iPad, and iPhone and by clicking on them you will see how this exact theme will appear on those devices.
This Soccer Team Bootstrap template is the perfect way to demonstrate all the important information on soccer clubs or just soccer players. It has 6 sections that can be used to represent all the data:
1. Home Page: where you can post all the recent news, successful matches and etc. in other words, the information that is the most imperative from your point of view.
2. About Club: Here you can write about the club itself, when it was created, who are the sponsors or the partners and etc. Who is managing the club and what are your main principles.
3. Team: This is one of the most important information, here you can write about the team members like their names, age, experience, history and etc.
4. Matches: This is the place where you can tell about a club's football history for instance how many matches were played, how many of them were won and etc.
5. Gallery: Here you can show the football players pictures for instance from football matches or during the exercise sessions.
6. Contacts: Here you can write your contact information, we also offer the contact form where customers can fill out this form and directly ask you the questions. Except for the contact form, you can also show the phone number and address of the club. We offer the Google Map location to show the exact address and if you do not know how to set up Google Map location, then please follow this link: https://gridgum.com/How-to-Set-Google-Map-Location-in-Bootstrap-Template/ also you can read How to set up the coordinates for google map: https://gridgum.com/how-to-set-google-map-coordinates/
As you see this Soccer Team Bootstrap Template has everything that is needed for football clubs or football players. It also includes the content images so all the pictures that you see can be used without any additional charges.
If you have some questions, please leave them in the comment section and our support team will get back to you as soon as possible. To make the explanation process smooth, we offer the video tutorials to answer your questions and fill out all the gaps.
Template package includes:
all original files (html, php);
all pages design in .psd format;
working contact form released in PHP;
all content images (all images are legal and have been bought from www.yaymicro.com)
Soccer, Football club website template
$16


| | |
| --- | --- |
| Date of Creation: | 15 July 2015 |
| Last Update: | Never |
| Compatible Browsers: | IE, Chrome, Safari, Firefox, Opera |
| Files included: | HTML, CSS, JS, Files, Images, PSD |
| Documentation: | Well Documented |
| Layout: | Responsive |
| Tags: | soccer templates, sports website templates, football template, football website templates, sports templates, Best bootstrap themes, best bootstrap templates, HTML templates, HTML website templates, responsive website templates, responsive web templates |
| Type: | Bootstrap Templates |
| Categories: | Miscellaneous, Sports Templates |
| item #: | 22324 |
©
All Rights Reserved Gridgum