Information
Related Templates
Comments (0)
Bakery - Bootstrap parallax template (theme)
This is Bakery Bootstrap template which can be purchased and downloaded by bakery businesses or stores. It is a great opportunity to buy the given theme and launch your own website for a very little price. So if you run a bakery business and do not have an online platform to share your company data, then this is your chance to download this theme and use it!
If you have no programming skills and have never worked with Bootstrap templates and do not know what to expect from them, then start with our Free Bootstrap templates that can be found here:
If you have doubts about the process of launching a website through Bootstrap template, then we offer two different articles that explain whole procedure step by step. These articles are:
1. ALL ABOUT HOSTING AND DOMAIN REGISTRATION
2. HOW TO PUBLISH BOOTSTRAP TEMPLATE ON THE SERVER
As it was outlined above you can begin with Free Bootstrap templates, you will lose nothing but just gain the experience about functions and features of the template. Afterward, you will be able to switch to a premium version of Bootstrap themes with more confidence. Both are very high-quality products but of course, the latter one has more features and that's why it is charged with a price. For example, the Premium Bootstrap template will be updated whenever there are some changes in the current one, like some new pages or items are added in it.
The Bakery Bootstrap template is suitable for bakery businesses and stores who are willing to share their company information using the internet. Nowadays, people are using the internet and websites to search and gain the information, therefore, it is a wise decision for every company to have a properly functioning website. A website will help to demonstrate the product they offer, price range, delivery services and etc. If you buy the provided Bootstrap template, you will have to do nothing because everything is already in there. You will just any HTML editor for instance like Adobe Dreamweaver to alter the design of template based on your wishes, desires, and preferences.
More and more people are starting using the Bootstrap website templates because it is convenient, affordable, needs minimum effort and has fully responsive website design. Fully responsive design means that the website can be accessed through any gadget like mobile phones, tablet, laptops, computers and etc. This feature is very important because nowadays people are using not only PCs but also a wide variety of devices, therefore, one should have a website that can be opened from anywhere. And also the design of the website is altered based on from which device it is accessed, in other words, the design will also look flawless.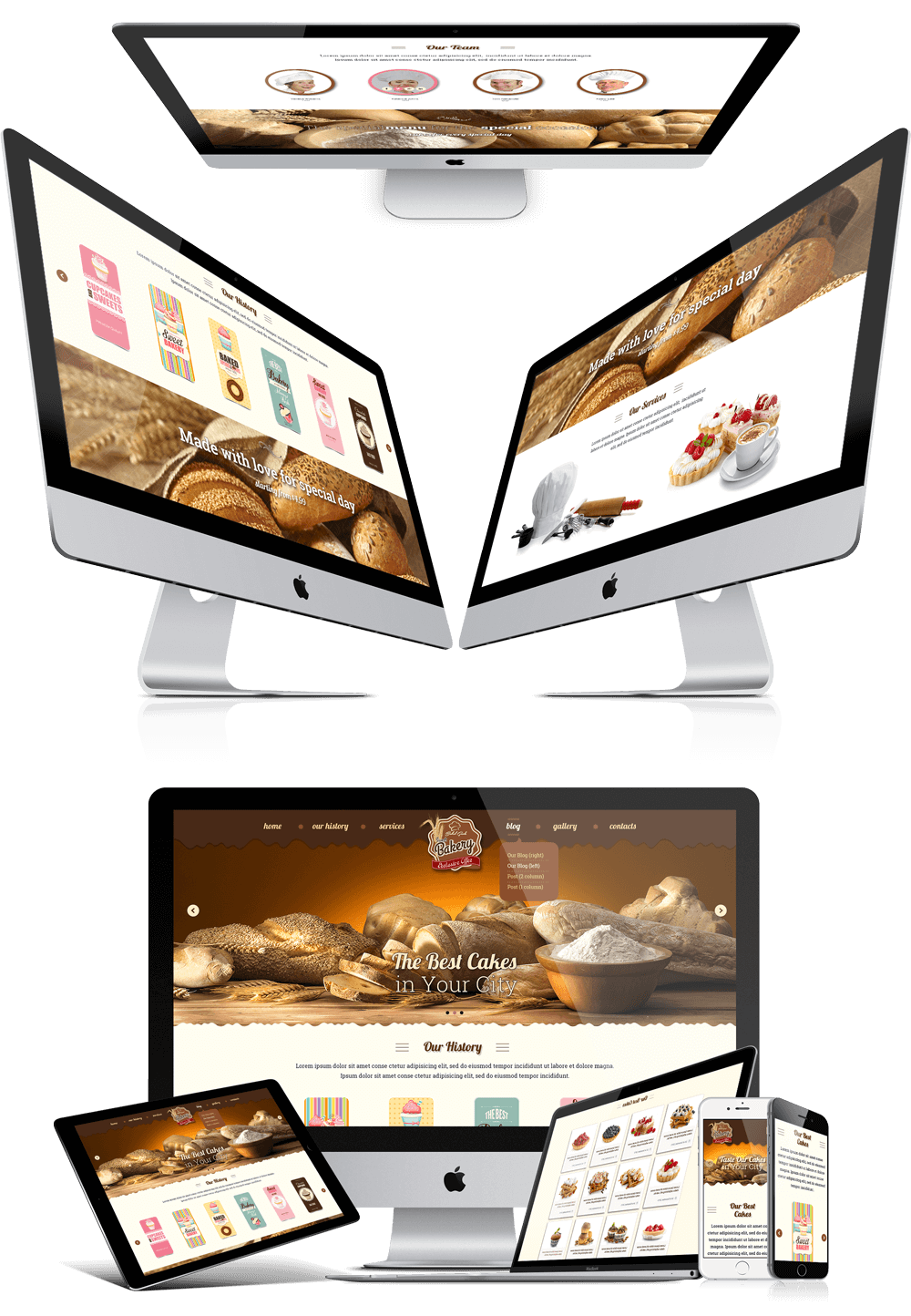 The Bakery website template has six HTML Bootstrap pages that can be used to represent all your information in a very detailed manner. These six pages are:
1. Home: This page should be full of very engaging information to make your potential customers stay on the website and visit the other pages as well. Therefore, put a lot of effort to make the Home page very interesting and attractive.
2. Our History: In this section, you can tell about your company history, what are your mission and vision statements. Why and when you were created, who are your staff members and etc.. Its always interesting to customers to know more about a company from which they are buying some products.
3. Services: In this section, you can present some services that are offering, for instance, some delivery services. You can include in which areas you can deliver the ordered food and of course for what price.
4. Pages: In this section, you can tell more about your products, how are they made and who is the main chef of the bakery store. You can also include the blog in which you will post some recipes and tips on how to cook or bake some specific food. Blogging is always a good idea since it increases the traffic on your website as more and more people are visiting it.
5. Gallery: On this page, you can post pictures of food that you offer, also process how they are made and etc. If you like the images that are presented in the template, feel free to use them since they are included in the provided price.
6. Contacts: In this section, you will be able to provide the contact information, for instance, telephone number, email, address, and etc. The address can be shown through the Google Map location tool which is encompassed in the template. If you do not know how to set up the Google Map location, then please visit the following link:
If you have any questions regarding any topic, then leave them in the comment section and our support team will get back to you as soon as possible. To have smooth communication and explanation process, we offer the video tutorial to answer your questions.
Indian Restaurant - Bootstrap Theme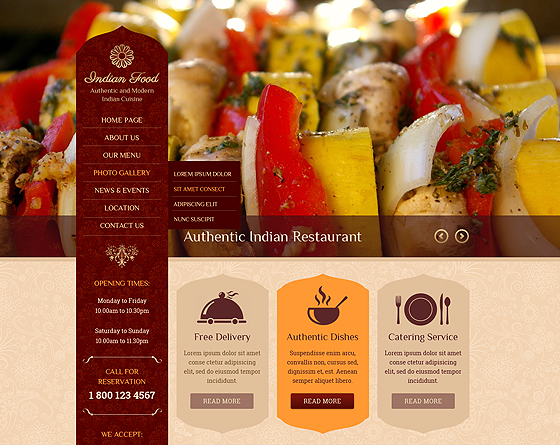 Beer Pub - Bootstrap Responsive Theme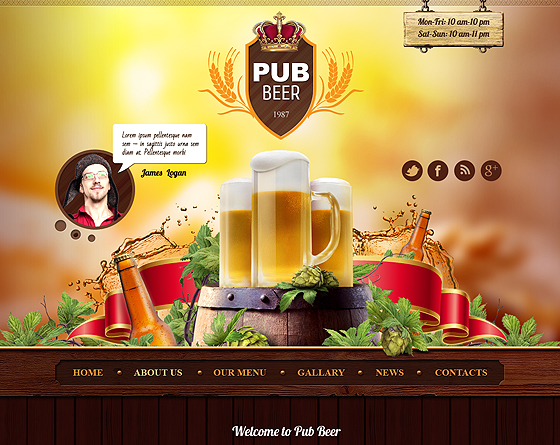 $11


| | |
| --- | --- |
| Date of Creation: | 26 October 2015 |
| Last Update: | Never |
| Compatible Browsers: | IE, Chrome, Safari, Firefox, Opera |
| Files included: | HTML, CSS, JS, Files |
| Documentation: | Well Documented |
| Layout: | Responsive |
| Tags: | bakery template, bakery website template, websitebaker templates, baker template, cake website template, cake shop templates, cake templates, HTML website templates, bakery templates, cake website template, cupcake website template, cupcake template |
| Type: | Bootstrap Templates |
| Categories: | Cafe Restaurant Theme |
| item #: | 24608 |
©
All Rights Reserved Gridgum